Ten Out of Ten
Francisco Costa's favorite women band together to celebrate the designer's first decade at Calvin Klein.
---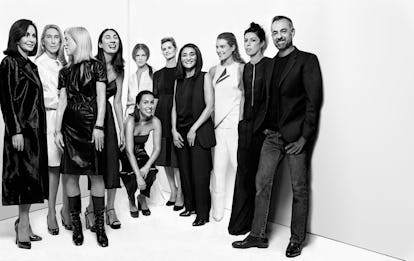 Photographer: John Scarisbrick Styled: Felicia Garcia-Rivera
Crazy as it sounds, Francisco Costa's creative reign at Calvin Klein was written in the stars. "A psychic predicted it," explains the affable Brazilian-born designer, who this year celebrates his 10th anniversary at the helm of the women's ready-to-wear collection. "He said I would end up at a big company like Calvin Klein, and I would have some acclaim."
Back then, Costa was happily ensconced at Oscar de la Renta, designing opulent, romantic clothes. The thought of stepping into the temple of minimalism—let alone taking it over—was "absurd," as he puts it. "What Calvin created was so incredibly perfect. I didn't think there was any way my aesthetic would ever come together with his." And yet in 2002, just after he'd resigned from Gucci, where he had worked for four years under Tom Ford, a call came from Klein himself: He was in the process of selling his company and looking for a successor. The two designers, it turned out, had more in common than Costa realized. "He and I were flipping through my book, looking at things I'd done for Gucci, and he's going 'Oh, Kelly [Klein] has that dress. Oh, Kelly just bought that coat.' Immediately, there was a level of excitement. I realized perhaps I could do this."
That, of course, is an understatement. Along with Italo Zucchelli, the creative director of menswear for Calvin Klein Collection, and Kevin Carrigan, the creative director of CK and Calvin Klein Jeans, Costa has helped grow the company into a global behemoth—picking up, in the process, two CFDA awards for Womenswear Designer of the Year. And while Costa has abided by the clean, modern codes that Klein so famously established, he has also followed his own vision for the brand.
Describing himself as a "reductionist" rather than a minimalist—"I compile ideas and then edit them down"—Costa has evolved the sensual purist that was the Calvin woman into a more complex individual, in tune with today's info-laden, cross-cultural world. His spring 2014 collection references Pablo Picasso, Gordon Matta-Clark, early-'80s street culture, and Bauhaus textiles—an eclectic cluster of ideas artfully tied together with fabric made in Laos and yarn from Japan. "He's very curious and open to new sources of inspiration in contemporary culture," says the gallery owner Angela Westwater, one of 10 women Costa handpicked to represent his brand in the photo at left. "His designs acknowledge the female figure and silhouette as much as they acknowledge the role of modern women in the world."
They also reveal Costa's level of confidence. A decade into the job, the once "intimidated" designer is clearly unafraid to explore new territory. Case in point: the finale of unfettered flapper dresses from his spring runway show. Who would have thought Calvin Klein would have so much fringe and swagger? "I'm much more comfortable than I used to be," Costa admits. "But I don't think any designer is ever at ease. You have to challenge yourself, create excitement. It's what allows you to take the next step."