Francisco Costa Frees the Nipple
In case you missed them, here are the top style news stories of the week.
---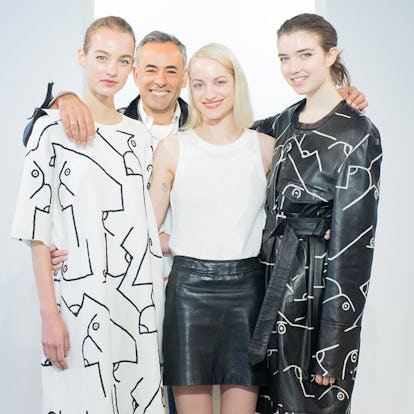 Beckham, Victoria Wants to bring her chic, elite designs to the masses. Yes, we'll take them.
Costa, Francisco Challenges Instagram's no-nipple policy with a breast-printed resort collection. #FreeTheNipple
Depp, Johnny Is now the face of Dior Parfum's latest. Now we know what the sexiest man alive smells like.
Giannini, Frida The former Gucci creative director plans to wed her longtime partner former Gucci CEO Patrizio diMarco this weekend. Mazel tov.
Gucci Took over NYC for its Resort show. Left Italy to Giannini and diMarco.
Instagram To add a Shop Now button. From all of us: Thank you!
Jenner, Caitlyn May be the newest face of MAC Cosmetics. You go, girl.
Jenner, Kendall and Kylie Debuted a collection for Topshop. MAC collab coming soon.
John Galliano The brand, not the person, will continue onward and upward without its eponymous founder.
Jolie, Angelina Turned 40 years old. Is still a goddess.
Lippes, Adam The fashion designer is bringing his chic, minimalist aesthetic to Target. Did you hear that, VB?
Mansur Gavriel The It bag designers are launching clothing and footwear. At some point.
Maybelline Designed new mascara intended to give you clumpy lashes. Because apparently some people aspire to that?
Miller, Marisa The Sports Illustrated model gave birth to her second son, is still the bomb in a bikini.
Olsen, Mary Kate and Ashley Won their second CFDA award for womenswear at the CFDA Awards. Celebrated in all black, of course.
Parker, Sarah Jessica To launch a collection of wedding shoes. Mrs. Carrie Bradshaw approves.
Proenza Schouler To launch its first fragrance. Will not cast Johnny Depp in the campaign.
Saint Laurent Got in trouble for using an underweight model in an ad campaign. Oops!
Siriano, Christian The fashion designer to create a plus size collection for Lane Bryant. It's no Target, but…
Smith, Willow Is the newest and youngest face of Marc Jacobs. Gives Cher a run for her stylish money.
Spade, Kate The person, not the brand, to launch footwear collection.
West, North Will be a big sister. Lets all say it together: AWW.