Through a Glass Darkly
Franco Deboni makes glass pieces that are anything but transparent.
---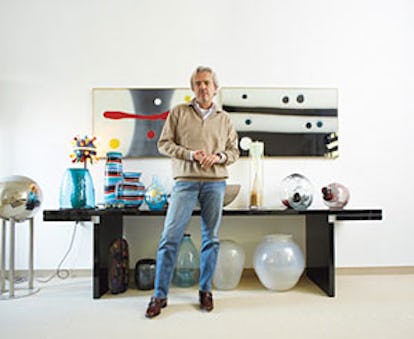 Think of Venetian glass, and the image that probably comes to mind is a cheerful knickknack in swirling hues of red and blue. But take one look at the work of rising Milan-based glass artist Franco Deboni, and that image quickly goes to pieces. "I wanted to do something that hadn't been done before," says Deboni, whose distinctively dark, earthy vases are catching on among collectors of contemporary glass. With their craterlike surfaces and saturated, metallic-flecked hues—from charcoal gray to ruby red—his pieces exploit the possibilities of shape, color and texture. "I like mixing minuscule quantities of different particles and oxides because the end result hardly looks like glass," he says.
Deboni's glass vases.
According to Tina Oldknow, modern glass curator at New York's Corning Museum of Glass, Deboni is "among the few contemporary artists to have broken out of the rather ossified Italian glass scene." Along with higher-profile glass artists Laura de Santillana and Yoichi Ohira, Deboni, says Oldknow, is "showing us new directions."
Sitting in his all-white living room in Milan's artsy Brera district, the elegant, soft-spoken 57-year-old looks little like an up-and-coming artist, though that's more or less what he is. In fact, it was just a decade ago that Deboni was known only as a glass expert and collector. After a brief stint in his 20s learning the glassmaking craft under Albino Carrara, a Venetian glassmaker who had worked with Picasso and Cocteau, he turned to scholarship, eventually writing the definitive work about Paolo Venini, the fabled glassmaker whose embrace of innovative design helped arouse international interest in Venetian glass. Over the years, Deboni also amassed an authoritative collection of art glass by such masters as Venini, Archimede Seguso, Aureliano Toso and Giacomo Cappellin, a portion of which he sold at Christie's in 2000. But in 1996, says Deboni, whose pieces are sold at the Rossella Junck Gallery in Venice, "after having studied glass of all kinds, I wanted to do something for myself."
These days, in his workshop, Deboni operates mostly on instinct. Because of his pieces' rich hues and textures, he favors "simple" shapes and never makes sketches, preferring a spontaneous approach. Smiling, he says, "I like to act on a whim."