The Fairest of Them All
Avant-garde art meets modernist design in the abode of Frieze director Victoria Siddall and gallerist François Chantala.
---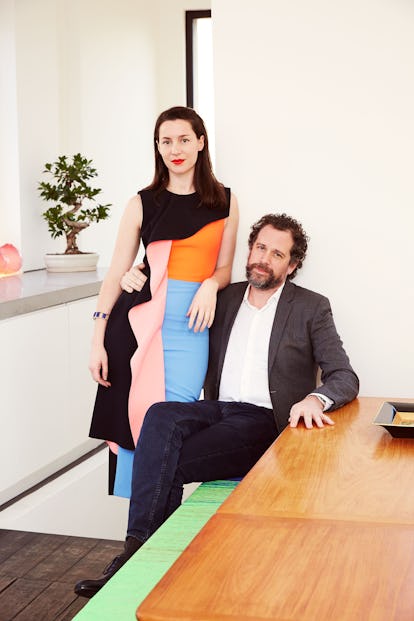 Photographer: Mel Bles Stylist: Gianluca Longo
Art Stars François Chantala and Victoria Siddall are comfortably embedded in the innermost circle of London's art world. He is a director at Thomas Dane, one of the city's most respected galleries, where artists like Steve McQueen, Glenn Ligon, and Walead Beshty have made their careers. She is the newly appointed director of the Frieze art fairs, including Frieze London, which takes place in October, and Frieze New York, kicking off its fourth installment this month. The couple met 15 years ago at Christie's, where Chantala was in the contemporary department and Siddall worked with specialists to write pitches for consignments. She joined the Frieze team 11 years ago, and in 2012 she launched Frieze Masters, focusing on everything from ancient artifacts to 20th-century works. "I'm biased, but it's the most beautiful art fair," Chantala says. "Collectors don't feel they have to buy work in the first 10 minutes. It's slowed down the pace." Siddall, who, with her dark hair, pale skin, and red lips, conjures Snow White, remembers how, just a decade ago, Christie's discouraged women from wearing pants to work. "They had to be part of a trouser suit," she explains. Nowadays, she is more likely to head to the Frieze offices sporting black jeans and Rupert Sanderson boots with a perfectly tailored jacket by Gucci or Alexander McQueen. The designer Duro Olowu's wild prints are a happy new discovery. "Duro is a friend, and I get the most compliments when I'm wearing his dresses," she says.
Home Buddies The couple's house is like a Lucio Fontana slash of modern architecture squeezed into a chaotic East London street. Arranged over two long, narrow floors are favorite objets and artworks, including a piece of Filipino pottery that Chantala brought back from Manila, and Siddall's first acquisition, a Hurvin Anderson drawing of a female figure. "We put on a show of his work in Thomas Dane's office, before there was even a gallery," Chantala recalls. "That's how we persuaded Hurvin to stop being a truck driver." When the pair entertain, friends gather around a Hans Wegner table that Siddall bought Chantala last year for his 40th birthday. "It seemed like the perfect present," she says. "He loves cooking." An impressive range of liquor bottles rattle in the sunken center of a 1970s stainless steel side table by Willy Rizzo that came from François's family home. On the walls are ink paintings by Caragh Thuring, a close friend; and a dynamic female form bursting out of its frame by Ella Kruglyanskaya, another Dane artist. A multicolored rocking chair by the designer Yrjö Kukkapuro was acquired by the couple on a recent trip to Finland to visit art world fairy godmother Anita Zabludowicz and her husband, Poju. Even their cat, Cleo, has a provenance: She came from a litter produced by the artist Laure Prouvost's puss Gelati.
Movers and Shakers Chantala had an uneventful upbringing in the idyllic town of Limoges, in West Central France, but Siddall's childhood was peripatetic. Her father served in the British army and was posted to far-flung locations, including Zizmbabwe and Washington, D.C. Siddall was sent to boarding school at age 8. "It was really Victorian," she remembers. "We wore our uniforms the whole time. We couldn't make phone calls home—it was letter-writing only. Meanwhile, François went home for lunch every day and then boasted to his friends about what he'd had to eat!" As much as Siddall and Chantala love their London life, they are not often in town. Just the week before, she had traveled to California, visiting dealers and the L.A. Art Fair. Chantala had been in Hong Kong to prepare for his gallery's first showing there at Art Basel, before heading to Manila to meet with the artist Paul Pfeiffer. Last summer, they vacationed in Japan. Chantala was already in Yokohama for the Triennale, where Michael Landy was exhibiting Art Bin, a project that involved inviting other artists to dispose of their unwanted work in a transparent Dumpster. Siddall joined him there after a trip to Chicago and Aspen. "I literally flew around the world to meet him," she says. "Our work and social lives are totally continuous and intertwined. But when we're in the same city, it means that at least we get to see each other in the evenings. The art lot always knows how to put on a great party."
Photos: The Fairest of Them All
Siddall and Chantala, at home. Roksanda dress, $1,970, Roksanda, London, 011.44.20.7613.6499; Lele Sadoughi bracelet, $150, lelesadoughi.com.

Photographer: Mel Bles Stylist: Gianluca Longo
A Christmas card by Beshty, with vessels made by Siddall's sister, Liv Siddall.

Photographer: Mel Bles
The kitchen, with Anton Alvarez's bench and Walead Beshty's FedEx cube.

Photographer: Mel Bles
Victoria Siddall, at her London home, with (from top) an Ella Kruglyanskaya 2014 drawing and Edward Kay's Working Mum, 2014. 2. Frieze New York, 2014. Céline jumpsuit, $5,900, Céline, New York, 212.535.3703.

Photographer: Mel Bles Stylist: Gianluca Longo
Hurvin Anderson's Single Figure, 2001, and a rocking chair by Yrjö Kukkapuro.

Photographer: Mel Bles
Alexandre da Cunha's sculpture Full Catastrophe (Drum IV), 2012.

Photographer: Mel Bles
A look from Duro Olowu's spring 2015 collection. Courtesy of the designer.
Books on Siddall's nightstand.

Photographer: Mel Bles
The modernist exterior of the Hotel Okura, Tokyo, which they visited. Courtesy of subjects.
Kruglyanskaya's cutout figures atop London's Studio Voltaire, an arts organization where Siddall serves as a trustee. Courtesy of Studio Voltaire.
Landy's Doubting Thomas, 2013. Courtesy of themodernhouse.net.
Yup'ik dance masks, circa 1890, at Donald Ellis Gallery, Frieze Masters, 2014. Courtesy of Frieze Masters.
Makeup by Lucy Burt at D+V Management. Digital techician: Luke Bennett. Photography assistants: Daniel Ciufo, Tommy Davies. Fashion assistant: Melissa Yates.