Rumble In the Jungle
A state-of-the-art theater complex livens up Trancoso's jet-set scene.
---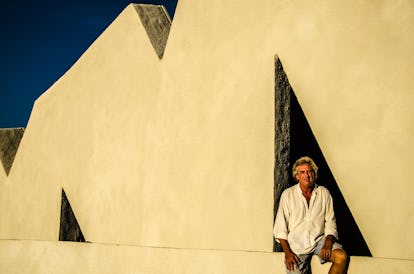 The tiny 16th-century village of Trancoso, in Brazil's coastal Bahia region, has been casting a spell on visitors ever since it was "discovered" by hippies and creative types fleeing the country's big cities in the 1990s. But in the past few years, the crowds have become larger and decidedly less bohemian, with droves of newly moneyed Brazilians arriving for the late-December high season, and international jet-setters (including Anderson Cooper, who's currently building a vacation house there) following close behind. Since 2012, Trancoso has also hosted a week-long music festival every March that celebrates classical performers from abroad as well as student and professional musicians from all over Brazil. Now the festival has a new home: the Teatro Mozarteum Brasileiro, a striking 2,200-seat theater complex.
Sabine Lovatelli, a Brazilian philanthropist and arts patron whose husband, Carlo, is an entrepreneur, came up with the idea for the festival and the building that houses it—over dinner with L'Occitane's CEO, Reinold Geiger, and Luxembourgian architect François Valentiny. "We drank a lot of good red wine," says Valentiny, who quickly drew up plans for a temporary venue built of timber and textile, located in a steep valley just up the coast from the historic town center. That building proved unfeasible—protected turtle nesting grounds on the beach made it inaccessible in the spring—so the scheme evolved into a more permanent structure in poured concrete, just a short distance away on a windy promontory. Shaped like "the surface of an open hand," in Valentiny's words, with its palm facing the sky and its fingers spread slightly as they taper off toward the south, the structure is halfway buried into its hilly site. An outdoor amphitheater is situated on top, with an indoor performance space below—a useful feature in rainy Bahia. "The sound surrounds you," says the designer of the effect of the solid curving walls.
From a distance, the theater and its accompanying outbuilding—a crescent-shaped pavilion that contains offices and rehearsal spaces—look like two mysterious outcroppings surrounded by dense rainforest. So it's not surprising that, last March, even before construction had finished, scores of curious Trancosens made the bumpy 10-minute drive from town to check out the first show. "The acceptance of the project by the local community was immediate," says Sabine, adding that the building and the festival are aimed at "developing new educational and economic opportunities for Trancoso." Not to mention new entertainment opportunities for the town's many well-heeled visitors.
Photos: Rumble In the Jungle
François Valentiny. Courtesy of Valentiny HVP Architects.
Trancoso's Teatro Mozarteum Brasileiro. Courtesy of Valentiny HVP Architects.
Inside the upper auditorium. Courtesy of Valentiny HVP Architects.