Frank Ocean Steals the Spotlight From the Final Days of the Olympics
Between back-to-back new releases Blond and Endless, there was hardly a moment to think about the closing ceremonies for the Rio Olympics.
---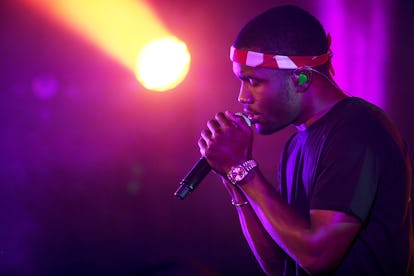 Roger Kisby/Getty Images
Bada$$, Joey Mr. Robot star, rapper, and Tupac aficionado.
JR The street artist whose Rio installations are the toast of Olympic Instagrams.
Music, Apple Really making a push for high-fashion cred. Its latest campaign features designers (-turned-DJs?) like Marc Jacobs, Paul Smith, and Chloé's Clare Waight Keller.
Ocean, Frank Dropped his new full-length Blond just a day after the album-length music video Endless hit Apple Music. There's a guest appearance by a Balmain flight suit and collaborators include Swedish rapper Yung Lean, Beyoncé, Dirty Projectors' Amber Coffman, and more. We're still processing.
Olympics, Rio Over. Vanquished. The Olympic closing ceremonies finished off the competition Sunday night. Ryan Lochte was not present.
Tillmans, Wolfgang The German photographer earned a writing credit on Frank Ocean's Endless — his track, "Device Control," which appears on his forthcoming EP, opens the record. And apparently, it was as much a surprise to him as it was to us.
Wu, Jason How many designers can claim dressing the First Lady as their big break? From real-life First Lady Michelle Obama to fictional First Lady Claire Underwood, Wu muses, "I think I have knack for the political figure."
Watch W's most popular videos here: