Frank Ocean and Jay-Z Just Declared War on Pop Radio
Frank Ocean premiered a new Apple Music show and invited Tidal owner Jay-Z on to talk about their distaste for modern radio.
---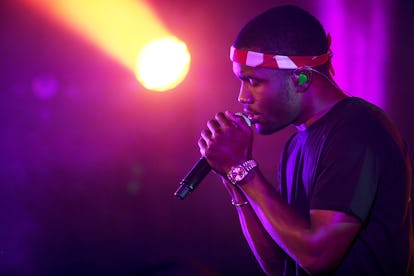 Roger Kisby/Getty Images
Frank Ocean works in mysterious ways. The singer surprised again today by premiering a new show, "blonded RADIO," on Apple Music's Beats 1 station. The playlist included everything from Celine Dion's "All By Myself" to Aphex Twin's "Flim." In other words, it was unlike anything you'd likely hear on traditional radio. Even college radio isn't known for being adventurous enough to spin Dion alongside the Dirty Projectors and Pixies.
Also, unlike traditional radio, Ocean himself didn't actually appear on much of the show, despite being billed as the presenter. That is until Jay-Z made a surprise appearance. The two talked about—what else?—their distaste for what regular radio has become today.
"Take radio for instance. It's pretty much an advertisement model," Jay claimed, according to Pitchfork. "You take these pop stations, they're reaching 18-34 young white females. So they're playing music based on those tastes. And then they're taking those numbers and they're going to advertising agencies and people are paying numbers based on the audience that they have. So these places are not even based on music. Their playlist isn't based on music."
In other words, his argument goes, playlists are driven by demographic data, not by anyone's actual appreciation or respect for music. It's not even that Madonna has a hard time getting radio spins anymore for her new songs, it's that even artists like Gwen Stefani, Fergie or Christina Aguilera are all the sudden too old for the targeted demo. Never mind anyone who is making undeniably great music that isn't particularly radio-friendly. Indeed, even Beyoncé has faced some resistance from radio. Her current model of dropping visual albums at surprise moments was developed, in part, to bypass dependence on radio hits. Don't forget she sang, "Radio say 'speed it up,' I just go slower" on "Yoncé."
It's also maybe why a group like The Chainsmokers, with tunes tailor-made for sorority BBQ's, are now one of the biggest artists on the charts.
It wasn't always that way, as Jay points out.
"If you think a person like Bob Marley right now probably wouldn't play on a pop station, which is crazy. It's not even about the DJ discovering what music is best. You know, music is music. The line's just been separated so much that we're lost at this point in time."
Jay, however, sees the future in technology.
It's perhaps not incidental the majority stakeholder in Tidal was appearing on a radio program exclusive to Apple Music, one of his service's biggest competitors. In that moment at least, it wasn't about streaming service vs service, but new ways vs. the old.
It's also about the fact that people don't segregate their actual music tastes into strict genres like they once did.
"They have to revolutionize that thing, you know, be more progressive. I think with all the technology and where we are today, it's definitely a more efficient way to get music out. Because it's the whole idea behind having a festival that played all sorts of music. Because no one listens to music like that—you just listen to music more than ever," Jay said. "Back in the days there used to be hip hop clubs. Like, specific hip hop clubs. Now every club is a hip hop club. Every club is a music club. You go in there, you're liable to hear EDM, hip hop, you're gonna hear some soul, you're definitely going to hear 'Poison' around 2-3 in the morning."
Because even 18-34 young white females like to listen to music other than what's tailor-made specifically for 18-34 young white females.
Ocean himself didn't say much in the chat, but he let his playlist do the talking. At one point he played a Nina Simone cover of the country music staple "Mr. Bojangles" back-to-back with hip-hop producer Clams Casino's moody "32 Levels" followed up by psych-tinged indie band Teen Suicide's "Wild Things Run Free." It's certainly a progression that seems to have no basis in advertiser-conscious demographic studies.
Inside Photographer Harley Weir's First-Ever Solo Exhibition, Featuring Her Collabs with Frank Ocean
Boys Don't Cry, September 2016.

© Harley Weir
Double Magazine, spring 2016.

© Harley Weir
Dazed & Confused, fall 2015.

© Harley Weir
Watch W's Most Popular Videos: