Fred Armisen and Carrie Brownstein Host Politically-Charged Fashion Show for Opening Ceremony
Equal parts comedy show, political statement, and prototypical runway, Opening Ceremony draws Aubrey Plaza, Whoopi Goldberg, Aidy Bryant, and Rowan Blanchard for its Pageant of the People.
---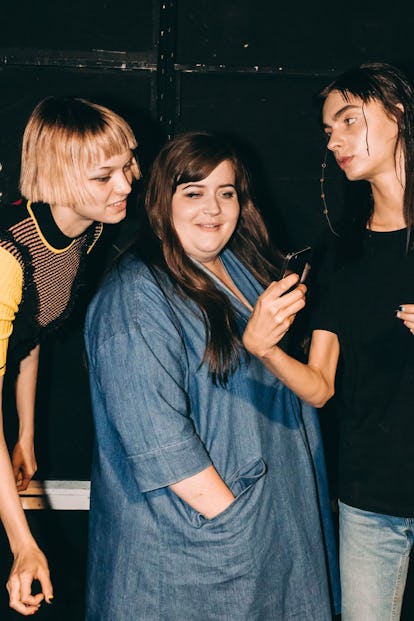 Photo by Simbarashe Cha.
It was a somber occasion when Opening Ceremony presented its first-ever see-now, buy-now collection during New York Fashion Week, and politics were on the brain. That Sunday marked the 15th anniversary of the terror attacks that struck the World Trade Center on September 11, 2001, and as the November presidential elections approach, the fashion world and beyond has been forced to confront the reality of a Donald Trump candidacy.
"What the fuck is going to happen?" wondered designer Humberto Leon backstage after the show, musing about the political climate. "No matter what, it's scary." Knowing that they would be showing on the anniversary of 9/11 during such a fraught moment in politics, Leon and co-designer Carol Kim decided to stage a fashion show-cum-comedy special, somewhat grandly titled "Pageant of the People." Emceed by Portlandia co-stars Fred Armisen and Carrie Brownstein, the event also enlisted stars like actresses Rowan Blanchard, Aubrey Plaza, and Diane Guerrero, Human Rights Campaign press secretary Sarah McBride, and comedians Ali Wong, Jessica Williams, Aidy Bryant, and Whoopi Goldberg for its Javits Center-set spectacle. They answered pageant-style questions — "How do you balance a family and a career?" — posed by Armisen and Brownstein in the midst of the parade of models. Its front row was equally star-studded: Korean pop star CL, will.i.am, and an extremely serious Tinashe all observed. (After the show, Tinashe hurried backstage and embraced the designers, gushing, "So good, so inspiring.")
The show was functionally divided into two movements and alternated back and forth between them: In the first, models wearing Opening Ceremony's Fall II 2016 collection (the follow-up to their Fall 2016 collection presented back in February) walked the runway while Brownstein and Armisen gently heckled them. Though the models largely maintained their stoic expressions successfully, a few cracked a smile or a giggle. "You do your thing, and you do your walk," Lim said she had instructed the models in advance. "Don't let them try and break you."
In the second movement, one of the celebrity guests (also in Opening Ceremony's most recent designs) did a lap of the runway and paused at a microphone at the center of the stage to say their part. They lined up at the back of the stage, clearing the way for the next round of models and the next celebrity guest. Behind them, a row of flags and a view across the harbor to New Jersey. The flags had previously been borne by male models in Opening Ceremony baseball jackets, each hailing from the country of the flag they held. And for the preponderance of issues floated during the presentation — immigration, intersectional feminism, race and ethnicity, and workplace inequality, treated alternately with earnest enthusiasm and a bit of levity — it was immigration that was at the heart of the collection as it was shown.
"We went to Ellis Island and did a lot of research on different groups of people that came over to America," Leon explained after the show — research that also involved examining images of his parents' immigration photos and those of Lim's parents. "You know, the idea of looking your best upon arrival."
Despite the gravity of the message, Armisen still hadn't broken character by the time he arrived at the after party celebrating Opening Ceremony's recent collaboration with Esprit. "I'm part of a math group near MIT," he explained of his casting in the show. "What happens is they parse out jobs to different people, so I just took this." Totally deadpan, he continued: "I'm running from the Canadian police, so I'm just trying to keep moving." Arm in arm with Natasha Lyonne, he disappeared into the crowd gathering at the Penn Plaza food hall, where the party was underway.
Behind the Scenes of Opening Ceremony's 'Pageant of the People'
"We wanted it to be a dialogue — we didn't want it to be heavy," Lim said. "It's a show, and we're excited to present our collection." And, according to a cadre of front-rowers who gathered backstage after the show to congratulate Lim and Leon, it worked. Aziz Ansari, Broad City's Abbi Jacobson, Miranda July, and Andrew Garfield gathered backstage before the party kicked off.
"I loved that Fred and Carrie hosted. That was really hilarious. That was really fun," Ansari said. He paused. "God. I sound like such a boring person."
Jacobson chimed in: "I thought it was a really wonderful mix of fashion and humor and issues." Then Ansari jumped in again: "Put that for me as well." (They continued their banter as we talked: "I thought this was the men's collection. I was very upset," Ansari said. "What were you even looking at?" Jacobson replied.)
"It feels risky," July added. "It's one of those things where, like, better to do it and have it be weird or off and try."
"If you don't vote, you can't bitch," Whoopi Goldberg said, closing the show. Outside, voter registration was available to audience members. For all its pageantry, Opening Ceremony was putting a bit of action inside the spectacle.
See W's most popular videos: