Everything You Need to Know About Frederikke Sofie, the Danish Street Style Star Who Loves Wearing Men's Shoes and Vintage Glasses
The model opens up about her personal style preferences.
---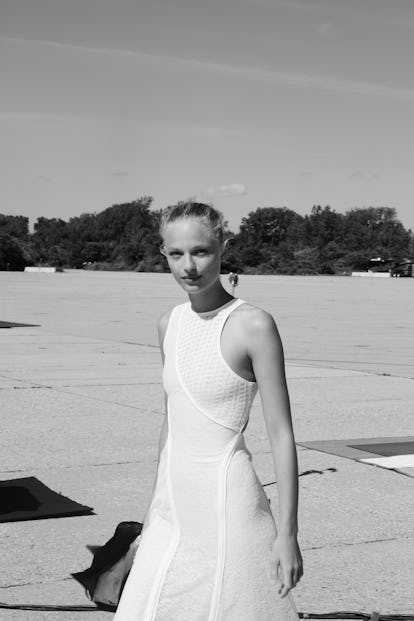 Frederikke Sofie is a regular on the runway and in ad campaigns–most recently, she appeared in the BOSS Spring Summer 2017 campaign–but she's likely best known for her signature off-duty look: curly blonde hair, oversized vintage glasses, and a tomboy-chic wardrobe. Here, the Danish model and street style star opens up about her personal style, from her favorite stores to her daily uniform.
Define your style in three words: Casual, boyish, and feminine.
Daily uniform: Men's straight leg pants, a playful wool sweater, and comfortable shoes.
Greatest hits: I love my leather trench coats. I have one in a natural light brown and one in a beautiful indigo blue. Also I just found a pair of vintage army, sailor pants from the '40s in very dark blue wool. They are so perfect fitted and keeps you warm in any weather.
Preferred footwear: Men's formal shoes. They are more comfortable than any sneaker and so chic.
Finishing touches: Vintage optical glasses, rings my mum has given me, and my necklace that says babe.
Nighttime look: Casual and feminine, with some glitter or jewelry.
Best recent discovery: Canvas bags in any size and color handmade in Kyoto. It's practical and so chic.
Favorite stores: Selima and silver lining for glasses in New York! Tokio 7 for good secondhand, and Dior for skincare.
Signature piece: My vintage glasses and expensive handbags.
Style icons: Phoebe Philo and Camilla Nickerson are amongst the women who inspire me. And the streets, too!
Last purchase: I just bought a beautiful rug from a store in New York called Coming Soon and the artist is called Cold Picnic. I'm having a lot of fun impulse buying for my apartment here.
Lusting after: An amazing couch for my new apartment buy in Copenhagen. Why is that so hard to find?!
Favorite haunts: Beau Marché in Copenhagen. It's a beautiful interior store, cozy wine bar and good French food all in one.
A Brief History of Frederikke Sofie, Model and Street Style Star
Model Frederikke Sofie on her way to Spring Studios on September 13, 2015 in New York City. Frederikke listens to music while wearing a black t-shirt and blue jeans.

Getty Images
Danish model Frederikke Sofie wears a oversized glasses, gray Ganni scarf, a tan leather jacket, and black wide-legged trousers after the Michael Kors show at Spring Studios during New York Fashion Week: Women's Fall/Winter 2016 on February 17, 2016 in New York City.

Getty Images
Danish model Frederikke Sofie wears wide-framed thin glasses, a long black jacket, black top, flared jeans, and a Celine purse after the Pucci show during the Milan Fashion Week Fall/Winter 2016/17 on February 25, 2016 in Milan, Italy.

Getty Images
Danish model Frederikke Sofie exits the Acne Studios show at Hotel Potocki belted blue puffer coat on March 05, 2016 in Paris, France.

Getty Images
Danish model Frederikke Sofie wears large-frame glasses, a J.W. Anderson top, carries a Celine twisted cabas bag, and wears handwoven Faustine Steinmetz denim trousers after the Celine show at Tennis Club de Paris on Day 6 of PFW FW16 on March 06, 2016 in Paris, France.

Getty Images
Danish model Frederikke Sofie wears large-frame glasses, a J.W. Anderon top, carries a Celine twisted cabas bag, and wears handwoven Faustine Steinmetz denim trousers after the Celine show at Tennis Club de Paris on Day 6 of PFW FW16 on March 06, 2016 in Paris, France.

Getty Images
NEW YORK, NY – SEPTEMBER 11: Frederikke Sofie in a wavy denim hat outside the Sies Marjan show at the New York State Bar Association on September 11, 2016 in New York City. (Photo by Melodie Jeng/Getty Images)

Getty Images
MILAN, ITALY – SEPTEMBER 21: Model Frederikke Sofie and driver outside the Fay show during Milan Fashion Week Spring/Summer 2017 on September 21, 2016 in Milan, Italy. Frederikke carries a Celine bag. (Photo by Melodie Jeng/Getty Images)

Getty Images
MILAN, ITALY – SEPTEMBER 22: Frederikke Sofie wears a denim shortleeve top over jeans outside the Fendi show during Milan Fashion Week Spring/Summer 2017 on September 22, 2016 in Milan, Italy. (Photo by Melodie Jeng/Getty Images)

Getty Images
Danish models Frederikke Sofie and Ulrikke Hoyer exit the Boss Women show at Skylight Clarkson Sq on September 14, 2016 in New York City. Frederikke wears thin oversized glasses, a semi-transparent pleated and striped top, loose white trousers, and black leather boots. Ulrikke wears a Avirex Cockpit bomber jacket, a personalized Goyard pouch, black trousers, and sneakers.

Getty Images
Danish models Frederikke Sofie, Ulrikke Hoyer after the Altuzarra show at Spring Studios on September 11, 2016 in New York City. Frederikke wears a wears magenta sunglasses, black slip dress, and carries a Celine bucket bag. Ulrikke wears a light black leather jacket on her shoulders over a "styled" white t-shirt, with a silk pleated skirt, and a Goyard pouch.

Melodie Jeng
Danish model Frederikke Sofie keeps the glittery lips by Peter Philips from the Fendi show and wears black sunglasses, a denim sleeveless top, jeans, green sandals, and a Chloe purse during Milan Fashion Week Spring/Summer 2017 on September 22, 2016 in Milan, Italy.

Melodie Jeng
Models Imaan Hammam, Frederikke Sofie after the Mugler show at Grand Palais on October 01, 2016 in Paris, France. Imaan wears reflective sunglasses and an all black outfit – a leather jacket, loose trousers, and Vans sneakers. Frederikke wears red sunglasses, a black top, white trousers, and black boots.

Melodie Jeng
Danish model Frederikke Sofie wears green sunglasses, a green knit sweater, white jeans, and black shoes after the Giambattista Valli show at Grand Palais on October 03, 2016 in Paris, France.

Melodie Jeng
Watch W's most popular videos here: