Remembering Dr. Fredric Brandt
W's beauty director reminisces about the late dermatologist.
---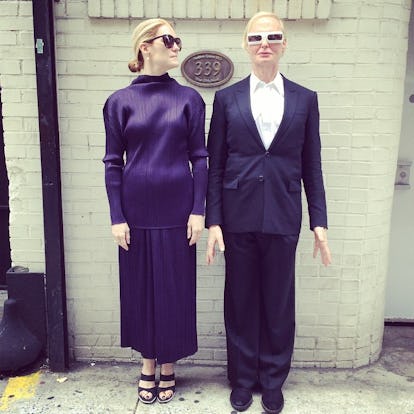 The beauty world lost one of its favorites on Sunday. New York-based dermatologist Fredric Brandt was renowned for his precise hand as well as his inside-track intel on all the latest procedures. At the first rumblings of any new filler or laser entering the FDA approval pipeline, Dr. Brandt was our first call.
A lot has been said of his sweet character, but he was also extremely funny. Being seated next to him at a business dinner was a treat; watching him explain the science of a product from his eponymous line via a rap song was so entertaining; listening to him pull out the most obscure showtunes (a passion we shared) always had me in giggles.
The last time I saw him was at a September launch event for his newest products. I was on day 9 of my #30DaysOf Vintage Instagram challenge and I asked Dr. Brandt if he'd pose with me. "Sure!" he replied, and gamely ran outside for the shot, slipping on his white Max Headroom-like sunglasses. That spirited enthusiasm, selfless generosity and huge heart will be sorely missed by all who knew him.