Artist In Residence: Fredrik Berselius
An ongoing series in which we invite ourselves over to see where artists work.
---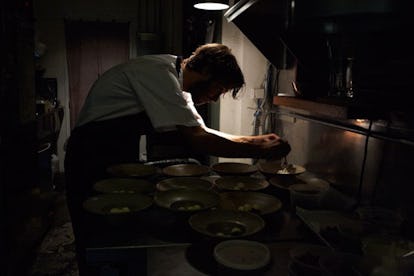 An ongoing series in which we invite ourselves over to see where artists work.
Last Saturday, as the mercury climbed into the upper 80s in Brooklyn, the boyishly handsome Swedish-born chef Fredrik Berselius was sweating in the cramped, makeshift kitchen of Frej. Pronounced "fray," the place can get booked solid a full three months in advance, though it isn't really even a restaurant. Located in the back of Kinfolk Studios, a Williamsburg design studio and bar across the street from the Wythe Hotel, its kitchen—if we must call it that—is not especially well-ventilated, either. "It's reached 100 degrees in here," Berselius told me, "and we didn't even have anything running!" Despite Frej's kitchen being roughly the size and dimensions of the corridors that lead to other restaurant kitchens, dinner is nonetheless served there three nights a week. With no room for a stove, a single hot plate somehow suffices; with no oven, several toaster ovens are stacked on a shelf. But the whole scene only gets more astounding once you see and taste what's coming out of it. The food at Frej is—in the current fashion of destinations like Copenhagen's Noma—considered New Nordic, although Berselius uses local ingredients and plates his food on hand-fired pottery from upstate New York. After Berselius, who previously cooked at Corton in TriBeCa, and his co-chef Richard Kuo opened Frej in the Spring, Zagat opined that it was "NYC's best-kept culinary secret." Then the New York Times discovered it, calling its $45 five-course tasting menu "one of the city's great bargains in fine dining." It's been near impossible to secure even one of the restaurant's measly 18 seats ever since.
On Saturday, though, there was no wait. In fact, the restaurant is officially closed this month for much-needed upkeep. ("Working on that A/C," Berselius promised.) I was there because the chef had invited a dozen or so guests for dinner to celebrate Frej's inaugural run in the annual food-and-music festival Le Grand Fooding NYC, which takes place from September 19th through the 23rd across the borough. For the event's closing ceremonies at the Williamsburg Flea (Mos Def and Mike D. are scheduled to perform), Berselius will partner with Choncho's Taco of Brooklyn Heights to serve a peculiar item inspired by Swedish street food tradition. Dubbed "Swedish tacos," they're an unlikely combination of pork belly, shrimp salad, mashed potatoes, and fried onion. (Uh. . . yum? My face may have betrayed some visceral reaction to this ingredient list, because Berselius immediately assured me that, in fact, "it mixes really well in your mouth.")
After having tasted the three-course meal (smoked trout, charred beef, strawberry dessert) the chef had prepared—singlehandedly, with a hot plate—for twelve, I suppose I shouldn't bet against him. After all, Berselius is the kind of guy who seems to go out of his way to manufacture challenges: "Every cook wants to have access to whatever tool they can think of, and I come from a background where there was unlimited access," he told me after the dinner, sipping a glass of wine. "But when you don't have that anymore—that's when things start to get fun." (frejnyc.com; legrandfooding.com/new-york)
To try Swedish tacos, or to attend any of Le Fooding's events, W readers can buy special advance tickets here.