Wes Anderson's Timothée Chalamet Film Is Delayed Indefinitely
Great, more journalists on furlough.
---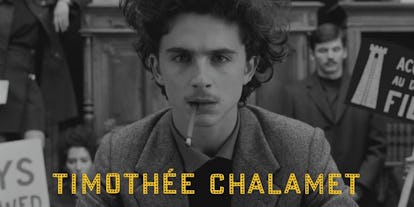 In an alternate universe, the types of people who wear tweed in summer would be lining up tonight at their local cinema to witness Timothée Chalamet in a Wes Anderson film. The French Dispatch was originally set to premiere at theaters today. Though, thanks to the pandemic, the film was originally pushed back to October 16th. Now, it's officially been delayed indefinitely.
The film, which stars Bill Murray as the editor of the titular magazine and Chalamet as a student revolutionary quaintly named "Zeffirelli," was supposed to follow the release schedule of most Anderson films: a world premiere at the Cannes Film Festival, followed by a wide release sometime in July. That's, of course, now impossible, and there's no indication when (or how, for that matter) the film may find release.
Of course, Dispatch isn't the only film hit by release uncertainty. Earlier this month, Christopher Nolan's highly anticipated Tenet was also moved to "indefinitely delayed" status.
Disney has now also pushed back their live-action adaptation of Mulan back to an undetermined date. The film was originally set for a March release. All future Star Wars film have also been pushed back by one year each (though, the next one wasn't set until 2022 anyway, and those projects still remain mysterious). The Avatar sequels, for what it's worth, have also been pushed back a year. At this point, however, the Avatar sequel being delayed doesn't come as much of a surprise, coronavirus or not.
While movie theaters have cautiously reopened elsewhere in the world (including, most recently, China), the American theater business is still mostly shackled, with little chance of reopening in sight, as coronavirus has only further surged throughout the country. The total number of cases in California will likely overtake New York's total, possibly as soon as by the end of the day. The case total in Florida is not far behind.
Though, there are still some films that are still set with a (possibly optimistic) release date in late August. The oft delayed The New Mutants (the final film in Fox's take on the X-Men universe) is still holding firm to an August 24th release. Disney also announced a limited release for The Personal History of David Copperfield on August 28th. A Quiet Place Part II, meanwhile, is still set for an early September release.
Related: The French Dispatch Trailer: Gasp! Timothée Is Naked