Shop Like a French Girl in New York
The city's best Parisian-chic shops.
---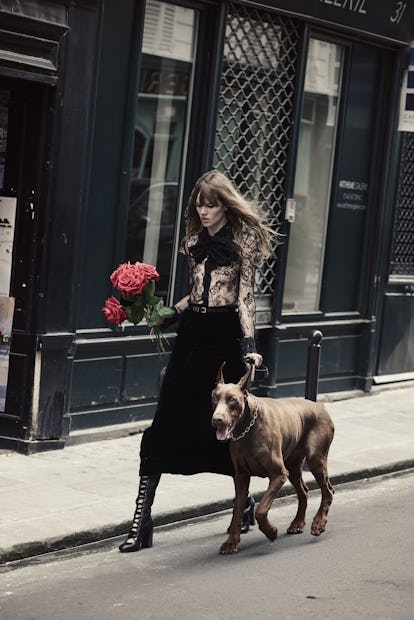 Our quest to achieve that effortless, French girl style is a never-ending one. There's something about the likes of Lou Doillon, Marion Cotillard, and Ines de la Fressange that remains ever so elusive, no matter how much we study and dissect their style. One thing that's essential to mastering French girl style, however, is starting with the right building blocks. This means shopping where the French actually shop. Here, a few of the best go-to French boutiques in New York for ballet flats, Breton striped shirts, candles, and more.
Repetto Repetto, the French dance clothing and shoemaker, has been a regular staple in ballerinas' wardrobes for decades. And, since they started making a version fit for the streets, the brand's classic ballet flats have been a favorite of the street style set as well. At last, Repetto has opened its first-ever shop in the U.S. in Soho, where you can pick up a pair of their expertly made flats for yourself. 400 W. Broadway, New York, 10012.
Saint James The iconic Breton stripe label has once again planted an outpost on the Upper East Side. The French brand, which closed its Upper East Side location less than four years ago and moved downtown to Bleecker Street, opens its new uptown location this month. For all your striped shirt needs, as well as nautical apparel and accessories, this is the spot. 41 East 78th Street, New York, 10075.
Diptyque You'd be hard pressed to find a chic French apartment that doesn't have a Diptyque candle or two inside. Luckily, the French perfumer and luxury candle maker has several outposts around the city to satisfy the nose. For an extra dose of French flare, stop by one of the boutiques now to pick up a limited-edition candle from French designer Olympia Le-Tan. 377 Bleecker Street, New York, 10014.
A.P.C. A.P.C. has had retail shops in New York for 22 years now and just recently, the brand's president and creative director Jean Touitou decided for the first time to show his latest collection of wardrobe staples (jeans, sweaters, button-ups, etc.) here instead of Paris. During the presentation, he also debuted his first collaboration with activewear label Outdoor Voices. Look out for that in stores this July. Make sure to pair those yoga pants with ballet flats, not sneakers, if you want to do it the French way. 131 Mercer Street, New York, 10012.
Isabel Marant Few labels are more French than Isabel Marant. The designer is the queen of Parisian chic, mastering the art of boho, jet-set wardrobe staples sought after by just about every 'It' girl around. Look no further than Marant for that unfussy, yet polished glamour she's so good at. 469 Broome Street, New York, 10013.
Surface to Air This cult Parisian boutique and creative studio, which originally launched in 2001 in Paris and then landed in SoHo in 2011, has built up its cool factor with a stream of impressive collaborators ranging from Kim Gordon to Kid Cudi to Solve Sundsbo. The New York outpost, which is modeled to look like a bunker, houses its men's and women's collections, along a sampling of shoes, accessories, and even childrenswear. 27 Mercer Street, New York, 10013.
Bonpoint Known as the premier Parisian brand for chic kids, Bonpoint is the place to shop for your little ones. This high-end boutique's racks are well stocked with some of the most adorable children's clothes you can imagine, from cashmere sweaters to silk dresses for newborns, babies, and young children. 805 Madison Avenue, New York, 10065.