Having a Ball
What does it take to get every fashion insider on the planet in the same room? Fantastic masks, out-of-this-world outfits, and a performance by Amanda Lear are a good start. Carine Roitfeld, editor in chief of French Vogue, who feted the magazine's 90th anniversary, answers our questions.
---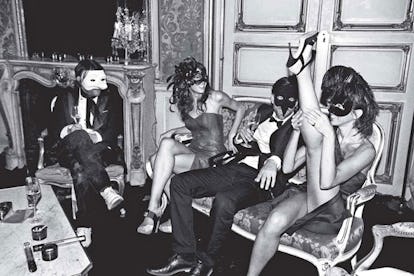 Who: "Kate Moss, Jean Paul Gaultier, Marc Jacobs, Riccardo Tisci, Delphine and Antoine Arnault, Hedi Slimane, Rick Owens, Miuccia Prada, Tyra Banks, Lenny Kravitz, Diane von Furstenberg, Natalia Vodianova, Mariacarla Boscono, Victoire de Castellane, Roberto Bolle, Lara Stone, Lapo Elkann, Franca Sozzani…"
What: "A masked ball to celebrate French Vogue's 90th birthday."
When: "October 6."
Beaked partygoers
Where: "Hotel Pozzo di Borgo, in Paris's 7th arrondissement."
Why: "I wanted to go back to the very Parisian tradition of the grands bals."
Person you were glad to see crash the party: "Everybody!"
Diane von Furstenberg
Dead people you wish could have attended: "Truman Capote, La Casati, Yves Saint Laurent, and Marie-Hélène de Rothschild. Someone told me I looked like Marie-Hélène, which was the best compliment!"
Live person you wish could have attended: "Tom Ford, but he had a good excuse. He was shooting in L.A.—for me!"
Carson McColl and Gareth Pugh sharing an intimate moment amid the madness.
Fashion plate of the evening: "Anna Dello Russo. She wore an incredible Pucci gown and a Gareth Pugh headpiece."
Discovery of the evening: "With a mask on, you see life completely differently. I loved not being able to recognize anyone. It was like being in a movie."
Most exciting moment: "Seeing a French kiss between two masked people! I don't know if anyone was doing naughtier things in the garden or the bushes, but I hope they were. Nowadays it's difficult to be both chic and decadent."
Worst moment: "When the last person left."
Hangover quotient: "We drank excellent champagne, so there was no hangover!"