Fun at the Frick
Pretty young things partied al fresco at the Frick's garden party.
---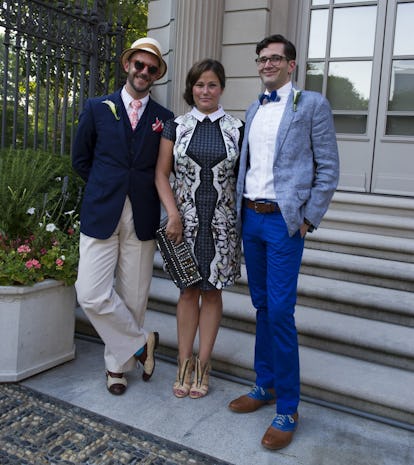 What: The Frick Collection Garden Party
When: July 16th
Where: Despite the searing temperatures, most guests braved the outdoors, filling the museum's private Fifth Avenue Garden, normally cordoned off to visitors. The magnolia-framed space was dotted with bright orange tables and filled with jazz by The Flail, a quartet. Those seeking air conditioning strolled through the interior Garden Court.
Who: Upper East Side twenty-somethings (or those aspiring to a 10021 zip code) and a smattering of to-the-manor-born types: Rockefellers and Henry Clay Frick's great great granddaughter Martha Loring.
Why: A chance to travel to a time—or place—where seersucker, Nantucket reds, pink suits for men and fascinators and headbands for women are de rigueur. No need to hit Newport or the Vineyard.