From Louis Vuitton to Gaia Repossi, Five Extraordinary Artful Jewels
If it's drama you're looking for, these precious pieces from some of the most decadent fine jewelry houses won't disappoint.
---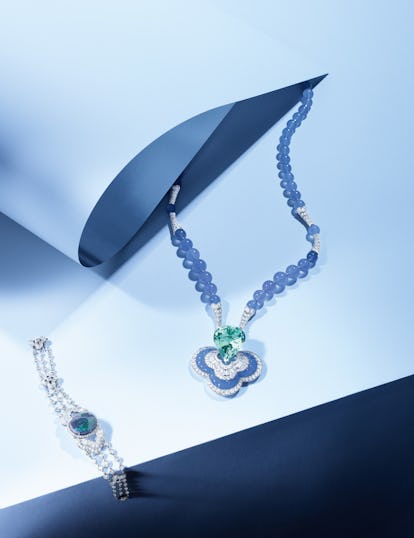 Photographs by Philippe Lacombe, Styled by Grace Fuller; Photography assistant: Quentin Ducros
Masterpiece Theater The famous flower in the Louis Vuitton monogram is, according to the French house, a symbol of joy. But when that motif is rendered in diamonds and black opal, say, or diamonds, chalcedony, and green beryl, as it is in the Blossom fine-jewelry collection, joy becomes sheer ecstasy. Vuitton's signature trianon canvas was considered revolutionary when it was introduced in the 19th century, and the Blossom pieces follow suit, taking advantage of pioneering jewelry techniques. "Modernity is part of our process, and innovation has been part of our DNA since the beginning," said Hamdi Chatti, vice president of watches and jewelry at Louis Vuitton. "This allows us to continue thinking ahead while looking back through our rich history."
Send Sparks Vertiges, Lalique's "art jewelry" collection, takes its cues from Sergei Diaghilev, whose all-encompassing vision for the Ballets Russes included not just choreography but also fantastical costumes and sets. In this Firebird ring, a testament to the house's mastery of lacquer work, a central fire opal is framed by black jade and freshwater pearls. The result is as delicate as a pirouette.
Suspend Disbelief For her Suspension earring, the designer Gaia Repossi turned to a master model maker who has been working for her family's jewelry atelier for more than 50 years. The metal-wire sculpture he ­created was the basis for these airy, diamond-studded gold rods, which appear to float above the ear, like the Alexander Calder mobiles that inspired them.
Prove Your Metal This necklace, designed by Alexander Calder in 1942, is made from hammered silver wire, not unlike the material the artist used in his kinetic sculptures. And while it is certainly of museum quality, it doesn't belong on a pedestal but, rather, on chic woman.
Watch W's most popular videos here: