From "Sex in the City" to Jay Z, Mimi So on Her Start in Fine Jewels
During the Aughts, the designer was the go-to jeweler for everyone from Destiny's Child to Halle Berry. Nearly 20 years later, she's still going strong.
---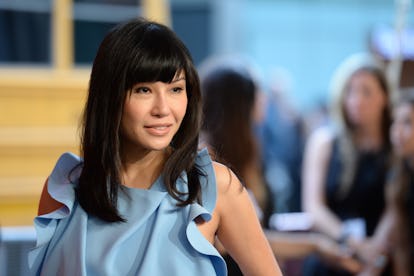 Photo by Getty Images.
Growing up amid first generation Chinese parents, and third generation jewelers, Mimi So found herself unavoidably immersed in the world of fine jewels. While literally earning her keep from a very young age, So helped her parents in their East Village store, organizing and later helping clients with custom pieces. She had the fashion bug and later enrolled herself at Parsons, where she studied graphics. While studying and working throughout her college career, she opened up her own namesake store on 47th Street in 1998 in the middle of New York's famed diamond district. At the time, she was the only female jeweler on the block as well as the youngest. At first she couldn't afford her own stones, so she displayed on her windows the colored pencil sketches of her designs hoping that someone would commission her to materialize them. Shortly enough, she was recognized by New York and L.A.'s biggest stylists and she started working with the creators and stylists of Sex in The City before the show was even a 'thing', customizing jewelry with different identities for Carrie, Samantha, Charlotte and Miranda.Now in her private atelier, still in the 40s, Mimi prides herself as a jewelry designer erring on the side of fashion amidst the stone and jewelry buyers, and traders doing business around her. This year she celebrates the enamel Bow ring collection in order to offer her clientele a more approachable price point of pieces less than $500.
How did you get your start in jewelry? You have three hours? My start was at age 10, growing up in my parents' jewelry atelier downtown in the east side between Bowery and Little Italy. We always made it by hand, so it was a slow love affair at a very young age. I was earning my room and board, ha! Then I went to Parsons and studied graphics, and communication design. I then worked for my family for a bit longer before opening up my own namesake, Mimi So, the label not too long after that in 1998.
What was it like getting your business off the ground? I opened up a little store on 47th stret in the heart of the industry. That was where I also started the design aspect of it. It was exciting, it was hard but it was just love and passion like a house that you invest in. It was a tiny store but very charming! The design aspect began because I didn't have enough money to fill up my windows with pieces, so I displayed my sketches. I had my sketches in beautiful framed boards. People came in because they were intrigued because it was different than the rest of the stores on the street. At one point, a gentleman who was a very prominent figure in the industry came in and popped in one day to ask 'What do you do?' I notice you're always the first and the last on this street?' I think he thought I was the cleaning crew, and I explained, 'I was the proud business owner!' He then gave me his card in case I ever needed a reference so I could use his name as a referral. I kept his card not knowing who he was and one day when I had to go to a supplier, I gave them his card as a reference for my $100,000 stone loan. They looked at me skeptically and called him, they got on the line and the next thing I know, they hung up and sat back down with me and they said, 'OK, we can give you whatever you want!' I later learned his name was very valuable because he provided the important stones for Cartier, Van Cleef, and the big brands. His name is Louis Glick.
When did you feel like your brand was on the right track? When I was the go-to jewelry girl. When all of the stylists were coming to me to dress musicians, and important celebrities. Music videos then were a very important thing and jewelry played a very important role in those videos in the early Aughts. Then the show came, Sex and the City, when cable was everything. I am a person who believes in people before things are already said-and-done and I am always a believer in supporting others and their creativity. Sex and the City was only a pilot and at the time. The stylists didn't have the big name brands to support the series because it wasn't a success yet. I remember going to the Silver Cup studio where they were filming to bring my jewelry pieces thinking, 'Oh my God, am I going to get robbed?' The jewelry was really their finishing touch. My jewelry is more about the spirit of the woman. Growing up in a melting pot in New York, we were able to curate Samantha and Charlotte's jewelry and for Carrie we created things that were more bohemian. Then we made Jay Z's Rocawear diamond 3D necklace, which was during the 'tripped out diamonds' phase. That meant you put the most you can in one piece of jewelry and still try to make it look good. So from one minute I was working with this celebrity and then the was on to the next backstage performance dressing someone next. You're pumping out this creative evolution! There was one year that I made a necklace with blue and white diamonds for Jay Z when he was doing so well so he bought a second for backup just in case.
What were the main pieces you began with? The 'Piece Collection'. Because it's the icon of our company. It's three concentric shapes of a triangle. Each frame represents the past, the present, and the future. It comes from my graphic background that I spent at Parsons. There was another collection called 'Anzia' from the evolution of Neverland which is from my childhood memories.
Do you still have any celebrity following? J. Lo didn't want to give a pair of our earrings back recently. From Bianca Jagger, Ashley Graham, Uma Thurman to Priyanka Chopra and Alicia Keys, who wears our stackable bands.
What are the best sellers today? The best sellers would be the 'Piece Collection,' our Bows, and the stackable rings from the 'Wonderland Collection'.
What have been your biggest hurdles in the competitive jewelry market? The biggest hurdle would be that we (as jewelers) are always effected by the economy. Our business is a business of 'want', not 'need'. It's tough.
What trends do you see in jewelry today? The whole ear thing, ok? There's nothing more to say.
Have you had a favorite moment since you launched the brand? Our success was very organic and then we hit that real big moment when Halle Berry was wearing our pieces on the red carpet while Destiny's Child had all my jewelry on at the same time. We joked I was the fourth Destiny's Child! You're not even realizing your brand is even being created because you're making it. Then Neiman's came and knocked on my door and their vice president of jewelry came to visit me, the late Steve Magner. I didn't even know what Neiman Marcus was! That was a solid ten year ride of a moment when I was backstage of Eve and Gwen Stefani's performance for the Grammys. The next thing I knew I was dolling Lil' Kim up in the back stage with my jewelry when she wore the famous pasties!
How do you gather your inspiration? I gather my inspiration from my own life journey. I am inspired by what I am living through and what I go through. My heritage is Chinese and growing up with grandparents, it's always about stories so it's very natural to me to convey that in my jewelry approach to convey that in an authentic place. I spend a lot of time in Jackson Hole. When you go to Jackson, the nature is still preserved.
What's your favorite stone? That's funny; it's kind of like answering 'who's your favorite boyfriend?' Which is your latest boyfriend of course— he's your favorite.
Talk to me about the future. Any plans for what's next? Well, the future is always bright. I am always eager to always do more, and expand. I would love to find a way to introduce Mimi So to the world of jewelry collectors and experts. I feel as though it's my duty to put it my brand out there. I would definitely like to partner with another interesting retail store.
Watch W's most popular videos here: