Design Without Borders
This genre defying shop represents Oslo's design frontier.
---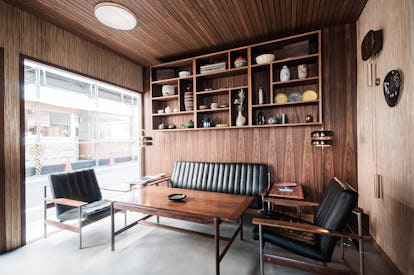 The brainchild of a coffee entrepreneur, a mixologist, and an antiques dealer, Fuglen is a coffee shop by day and an artisanal cocktail bar by night. For the past six years, this tiny Oslo storefront has also been the keeper of Norway's design legacy, acting as a sort of showroom, where all of the vintage furniture is for sale. Recently, the partners introduced Norwegian Icons, a traveling exhibition full of finds like a Torbjørn Afdal teak bar cabinet and a Hermann Bongard enameled tray table. The project, which landed in New York in May, has acquainted collectors, museums, and auction houses around the world with Norwegian ingenuity. Having "awoken the international market," says Fuglen cofounder Einar Kleppe Holthe, the trio is now replenishing its depleted stock—in anticipation of opening an outpost in New York next year.