Read & Resist: W's Daily Briefing for June 16
From an investigation into a shady foundation capitalizing on the Black Lives Matter movement to the story behind the Brooklyn Liberation rally.
---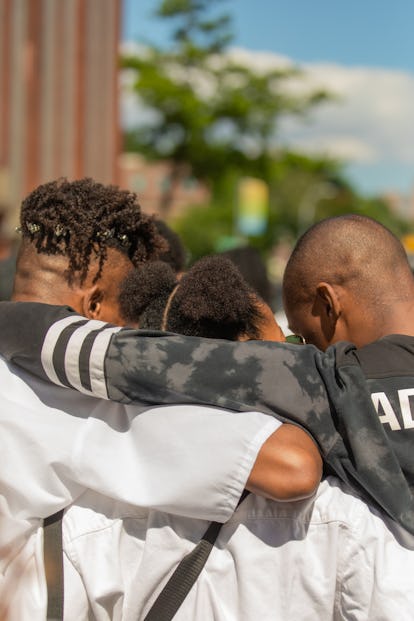 Back in the day, W started off the morning with a quick round-up of links to that day's fashion- and culture-related news. Times have changed; in the weeks since a white police officer named Derek Chauvin killed an unarmed Black man named George Floyd, protests have erupted across the country. Now, more than ever, it's important to stay up to date, which is why we're reviving "Chic in Review" as the slightly more radical "Read & Resist." Here are the stories, videos, and tweets we're hoping you don't miss this Tuesday:
In this piece for the L.A. Times, staff writer Greg Braxton reached out to the directors of three documentaries about the Rodney King riots in Los Angeles to ask for their perspective on how the 1992 uprising compares to the Black Lives Matter protests happening around the country today. John Ridley, the Oscar winner behind ABC's "Let It Fall: Los Angeles 1982-1992," Sacha Jenkins, who directed Showtime's "Burn Motherf*cker, Burn!" and Oscar winners Dan Lindsay and TJ Martin, who made National Geographic's "L.A. 92," (all of which have been made available for streaming this week) share their thoughts on the movement. ""I don't think history repeats itself," Ridley tells Braxton. "It sort of rhymes."
The iconic Eli Reed, a member of the Black photography collective Kamoinge Workshop and the first Black photographer to join Magnum Photos, traveled to Houston to capture the crowds that gathered to mourn George Floyd's death last week. In an essay that accompanies the portfolio, the curator and writer Chaédria LaBouvier elucidates the "beautiful symmetry" of Reed photographing the scene. "The visual foundation of Floyd's afterlife incorporates themes of majesty, splendor, and nobility that are a deeply historical call-and-response to Blackness in funerary and the afterlife across time," she writes.
A one-man foundation unaffiliated with the Black Lives Matter movement has raised at least $4.35 million by capitalizing off of a similar name, according to this Buzzfeed investigation: "The Black Lives Matter Foundation, a Santa Clarita, California–based charitable organization that has one paid employee and lists a UPS store as its address, has a very different goal, according to its founder: 'bringing the community and police closer together.'" Because of the reporting done by journalists Ryan Mac and Brianna Sacks, the bulk of the funds have been frozen before being disbursed by popular fundraising platforms like GoFundMe. But in an era of enthusiastic fundraising, let this serve as an important warning to always read the fine print.
Anushka Patil charts how, in just two weeks, the Brooklyn drag queen West Dakota's idea to emulate the 1917 Silent Parade rally turned into "a gathering of thousands of people in a sea of white," last weekend, whose "size and intensity stunned bystanders, participants and the organizers themselves." Organized by over 150 people, many of whom worked under the direction of Black transgender-led organizations like the Okra Project and the Marsha P. Johnson Institute, the Brooklyn Liberation march became a significant milestone in the Black Lives Matter movement. "Something just sort of clicked for me," West Dakota told Patil. "We don't have to wait for that to happen. We can do it ourselves."
On Vulture's "Good One" podcast, the comedian Eric Andre laments the fact that a joke he came up with over a decade ago about the propaganda-esque TV show Cops is still relevant. "I grew up watching that show. It was always on and always fascinating, and they definitely downplayed the police brutality—that's the farce of Cops," Andre tells the host Jesse David Fox. "But the underlying subtext to Cops is like that Bill Hicks joke: State power will always win, and we'll bust down your door and get you anytime we want."
Newsreel:
Food For Thought:
Related: For Some Protest Photographers, There's No Such Thing as Neutral