FYF Fest's Lineup is What a Festival Bill Should Look Like in 2017
FYF Fest enlists Björk, Missy Elliott, Solange, and Erykah Badu for a stellar lineup that's refreshingly more diverse than so many other festivals.
---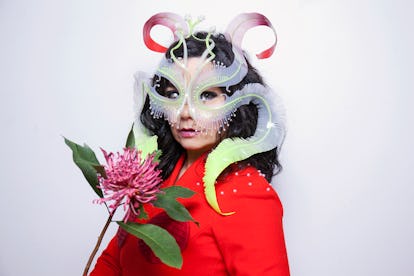 Getty Images Portrait
Lady Gaga will become only Coachella's second female headliner in its storied history, a fact that echoes greater diversity and gender problems on festival bills in general. FYF Fest's just released 2017 line-up, however, proves that one can put on quite an enticing show with still emphasizing female artists and an otherwise diverse lineup.
The Los Angeles festival's four headliners this year are Björk, Missy Elliott, Frank Ocean, and Nine Inch Nails. Yes, FYF Fest will have as many female headliners in one weekend as Coachella has in its entire history. It's an even split at the top of the bill between the genders (not to mention that it's also an even split between black and white acts). The diversity continues on the second line with Solange and Erykah Badu sharing space with A Tribe Called Quest and Iggy Pop.
It's not quite as even-balanced all the way down the line, but 20 of the festival's 69 acts are either solo female performers or female-fronted bands. That includes everyone from House DJ The Black Madonna and buzzed-about rapper Princess Nokia to female-fronted shoegaze band Slowdive and indie singer-songwriter Angel Olsen. That means almost one of three (29 percent) acts on the bill feature women up front. While that's still far from ideal, note that it doesn't figure in male-fronted acts that may include female musicians within the bands.
And it's still a better rate than so many other festivals. It's certainly better than the dude-dominated lineup announced for this summer's similarly SoCal-located Arroyo Seco Weekend.
Of course, let's not bury the lead completely here. FYF Fest is headlined not just by two women, but two boundary-pushing artists who have redefined music through not just their vocals and songwriting, but also via their avant production skills and keen use of visuals. It's Björk and Missy Elliott sharing the top line on a festival, for crying out loud.
Meanwhile, the festival line-up image itself was created by female visual artists. Danielle Garza worked with Lauren McElroy and Jessica Cowley, along with Luke McGarry and photographer Tod Seelie, to create the mural art installation.
It's also worth noting that the lineup features a number of openly LGBT acts, including Perfume Genius, Kanye West producer Arca, and DJ collective Horse Meet Disco.
The three-day festival will take place at L.A.'s Exposition Park for three days from July 21 to 23. Tickets go on sale on March 24, and start at $299. Single day passes will be available later on and will start at $125.
Watch W's Most Popular Videos: