Gabriel Hartley: Abstract Expression
The young artist is making a name for himself with his rich pieces.
---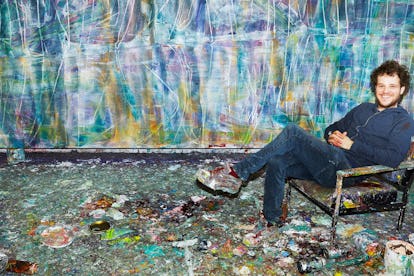 At the 2011 New Art Dealers Alliance fair in Miami Beach, 32-year-old London-based Gabriel Hartley turned the booth of the New York gallery Foxy Production into an otherworldly cave. He papered the walls with his smoky abstract drawings, then hung a few of the swirling, spookily beautiful paintings that he makes with oil, spray paint, ink, and resin. Collectors and critics swooned; recent shows at Paris's Praz-Delavallade and Milan's Brand New Gallery have garnered him even more attention. Giants like Philip Guston and Adolph Gottlieb may come to mind when one is looking at his art, but Hartley takes those influences into bracingly new territory by building beguiling layers of abstraction—sometimes atop scans of crumpled drawings—that seem to shift while you're examining them, as if some digital manipulation were at play.