He Vapes, He Croons, He's Daniel Day-Lewis' Son: Gabriel-Kane is Back
After a badly-received rap video, Gabriel-Kane Day-Lewis is ready to be taken seriously as a singer with a new "acoustic soul" album.
---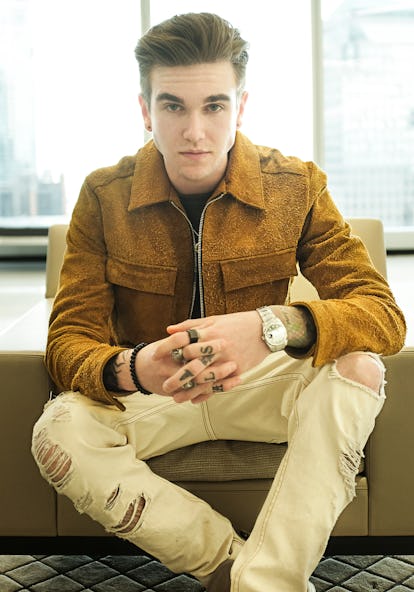 The best piece of advice that twenty-year-old Gabriel-Kane Day-Lewis ever got from his father, actor Daniel Day-Lewis, was not to engage with the press. But that's easy to say once you're firmly established as The Greatest Actor of Your Generation.
When you're best known as The Son Of, you have to try a little harder if you're ever to be taken seriously on your own, independent of that famous last name. And so in the years he's been in the spotlight, the younger Day-Lewis has learned through trial and error to be a careful curator of his own image, both via his social media channels — shirtless selfies are the rule, selfies with the likes of Kate Moss an occasional bonus — and through his acquaintances with various members of the fourth estate. On a recent Tuesday, he hadn't been inside the Condé Nast building in lower Manhattan for more than a few minutes when he'd already bumped into at least five editors he knew by name and greeted with a hug.
"I've definitely learned to be cautious," Day-Lewis told me of being in the public eye. "There's always going to be backlash and people who are looking to get to me through their comments. It's something that I'm learning not to pay attention to. It's hard to completely ignore that stuff when you're my age and you're finding yourself still. I consider myself a pretty sensitive person. But I want to stay positive no matter what the reactions are." After a rap video he made in 2013 while attending Sarah Lawrence college earned him the mockery of the Internet (it's since been taken down), the young musician is now working on an "acoustic soul" solo album titled Every Scar Is a Healing Place, which features surprising falsettos and Sam Smith and Ed Sheeran influences. Its second single True debuts Friday.
Paris born, the son of the acclaimed French actress Isabelle Adjani, Day-Lewis now lives in Bushwick and can be found at the Bitter End in the East Village on open mic nights and skateboarding with his friends in Times Square. If it all sounds a bit cliché, don't blame him — he's only been in New York for five years. Day-Lewis got the bug for the stage early on as he flitted between movie sets around the world with his mother. A formative experience was playing the Scarecrow in The Wizard of Oz when he was 13. He soon found he was drawn to music. "There were times when I had self-doubt, but I could never actually see myself doing anything else," he said.
It's a telling remark. Despite the onslaught of criticism that followed his rap video, Day-Lewis remains undaunted about his music prospects. "Songwriting has helped me get through some turmoil and the harder parts of my life," he said with complete sincerity. Though his 2013 single contained references to drug use and the burdens of fame, he declined to elaborate, simply adding: "I've found a way to express that stuff in my music in such a way that people can relate to it on an emotional and personal level. Everyone has their own stuff going on in their lives and in my music I make myself vulnerable and share a piece of myself, but it's also in the hopes that people will hear it and think: I'm not alone."
In person, Day Lewis was more endearing than entitled celebrity spawn. He wears a Santa Maria medallion around his neck (alongside a Supreme uzi gun) and nervously played with a beaded bracelet his brother got him in Japan. Most noticeably, he is covered in tattoos — the title of the upcoming album is on his arm and "patience, perseverance, and progress" is stenciled on his back. "Time heals" is also written across his fingers, which are adorned with rings, including one from his ex-girlfriend – he pointed out it was made out of volcanic ash – and another of a Planet of the Apes character dressed as Che Guevara. He admits his only guilty pleasures now are coffee and vaping, which to quote "the Biebs," he's not that sorry about.
His tattoos, in fact, have helped him accrue a following of some 30,000 people on Instagram. He's fond of posting Tiger Beat-style shirtless selfies showing them off alongside breezy snaps with the likes of Pharrell and paparazzi shots with other celebrities, like Bradley Cooper. The photo opp with Moss came about on set with Mario Testino, where he was asked to take his shirt off and reveal his tattoos. "Kate Moss was there drinking her spritzer and she was like, 'Oh wow! Do a turn for us!'" Day-Lewis recalled. "So I do a 360 and then she was like, 'Do you have any on your legs?' So I was like, 'Oh god, where is this going?' I literally ended up stripping down to my underwear. Then I asked for a selfie with Kate, and it became a full-on selfie photoshoot."
A year and a half ago, Day-Lewis signed with IMG Models — he's appeared in a campaign for Calvin Klein, for example — but he sees modeling as a means to an end. "Being on the runway doesn't pay well either, so I'm really trying to make the cross-over from modeling to music right now," he explained. However, sitting front row doesn't hurt anybody, and he just returned from fashion week in Paris and London, where he attended Givenchy, Balmain, Burberry, and Coach. Last season, he made his fashion week debut at Chanel's casino-themed show, where he walked out arm-and-arm with Julianne Moore. That was also the show where another celebrity daughter, Lily-Rose Depp, made an appearance.
That cameo came about because while riding around Paris on his Vespa last summer, Day-Lewis spotted none other than Karl Lagerfeld leaving the Chanel studio. "I'd met him when I was younger, and I didn't think he'd recognize me because it was like ten years later and I was blonde," said Day-Lewis. "So I went up to him — and at first I'm sure he thought I was some crazy fanatic — but then when I told him I was Isabelle's son he was like, 'Oh wow, you've really grown up. You look good. Would you be interested in being in the Chanel show?' Like, on the spot."
Well, of course he would. Lagerfeld knows a rising star when he sees one and Day-Lewis is starting to make all the right moves. In three short years, he's pivoted from a youthful misstep to craft a new sound and Chanel-assisted image for himself. Most importantly, he's learned how to transform bad press into something good. After all, Hollywood loves nothing more than a comeback.
"I'm doing my own thing," he said as he exited. "I'm not going to stop anytime soon."
Photos: He Vapes, He Croons, He's Daniel Day-Lewis' Son: Gabriel-Kane is Back
Gabriel-Kane Day-Lewis photographed by Biel Parklee.
Day-Lewis, Kris Jenner, and Corey Gamble at the Balmain Menswear Spring 2016 Show. Photo by Bertrand Rindoff Petroff/Getty Images.
Day-Lewis, Kris Jenner, and Corey Gamble at the Balmain Menswear Spring 2016 Show. Photo by Bertrand Rindoff Petroff/Getty Images.
Day-Lewis at the Chanel Haute Couture Fall 2016 show. Photo by Bertrand Rindoff Petroff/Getty Images.
Josh Whitehouse, Brooklyn Beckham and Day-Lewis at the Burberry Menswear Show. Photo by David M. Benett/Dave Benett/Getty Images for Burberry.
Christopher Bailey and Day-Lewis at the Burberry Menswear Show. Photo by David M. Benett/Dave Benett/Getty Images for Burberry.
Day-Lewis attends the Coach FW16 show front row during London Collections Men at The Lindley Hall on January 9, 2016 in London, England.
Day-Lewis at H&M Fall 2016 show. Photo by Richard Bord/Getty Images.
Day-Lewis at Givenchy Womenswear Fall 2016. Photo by Pascal Le Segretain/Getty Images.