How Fashion Designer Gabriela Hearst Is Supporting Planned Parenthood
"However big or small your spotlight is," she says, "you have to focus it on issues beyond yourself."
---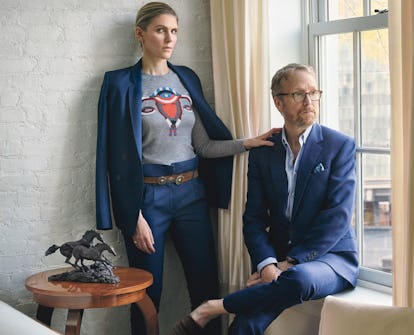 Photograph by Mark Seliger, Styled by Ethel Park; Hair by Miki for Kerastase paris; Makeup by Asami Taguchi for Nars at Frank Reps; digital technician: Sonny Fabbri; photography assistants: John Kelsey, Mike Skigen, William Wu; fashion assistant: Costa Andrinopoulos. Gabriela Hearst wears clothes from her collection; her own jewelry and belt. Austin Hearst wears his own clothes.
Growing up in Uruguay, Gabriela Hearst came home one day to her family's sprawling cattle ranch to discover truckloads of food being hauled into the house. Her mother, a longtime Buddhist, had decided that the children attending nearby schools didn't have enough to eat, and she had spent her day procuring donations from supermarkets.
"She was a very generous person, and I think that type of thing rubs off," says Hearst, whose own charitable efforts came to light when she launched her namesake fashion brand in 2015.
Hearst recently enlisted the help of Manos del Uruguay, a cooperative that employs artisan women from rural areas in her homeland; for fall, the group created the cashmere throw pillows that guests at Hearst's presentation perched on (and subsequently snuck off with) from leftover yarn.
An avid environmentalist—"that we can't go back on!" she declares—Hearst tries to be as eco-conscious as possible both at home and in her atelier. A third of her fall collection was produced from recycled materials like dead-stock Loro Piana cashmere and old Swarovski crystals. A recent trip to Japan spawned the idea for denim pieces made from used material, and she is eager to work with Tipa, an Israeli company specializing in 100 percent biodegradable packaging.
Meet the New Class of Philanthropists, from Ashton Kutcher to Stella McCartney
Earlier this year, when the Council of Fashion Designers of America teamed with Planned Parenthood, Hearst—who is a Planned Parenthood donor and counts Cecile Richards, the organization's president, as one of her personal heroes—designed a limited-edition merino wool sweater, debuting this season, with proceeds going to support the organization and its women's health-care initiatives.
"I looked at ovaries and a ram, and noticed they looked similar," Hearst explains of the intriguing intarsia pattern that she drew and that her husband, Austin Hearst, colored in. "I've always been involved with charitable stuff on a local level, but with Austin, new networks opened up," she says of their work together.
Take, for example, the UN Secretary-General's Special Envoy for Health, with which Austin, a film producer and publishing scion, has been actively involved for the past five years. The deployment of 1 million community-health workers in Africa will save some 3 million children's lives annually from myriad diseases.
"We don't need science to solve these health problems," ­Austin says. "It's distribution—getting people in the field with a backpack of injections and bed nets." Austin has also sat on the board of trustees of Save the Children for the past two decades, working not only to fund projects but also to film them.
"We went to the Sudan in the '90s in the midst of the famine, and captured the heroes involved—I was the cameraman," he recalls.
Gabriela has also recently joined the foundation, offering both her fundraising and fashion skills. Last year, she designed a slip-on sneaker in collaboration with Tod's, whose chief executive, Diego Della Valle, is also a supporter of Save the Children. "However big or small your spotlight is," she says, "you have to focus it on issues beyond yourself."
Watch W's most popular videos here: