In the Calm of Woolmark Prize Winner Gabriela Hearst's West Village Townhouse, Before the New York Fashion Week Storm
At home with the designer before she hosts her first runway show.
---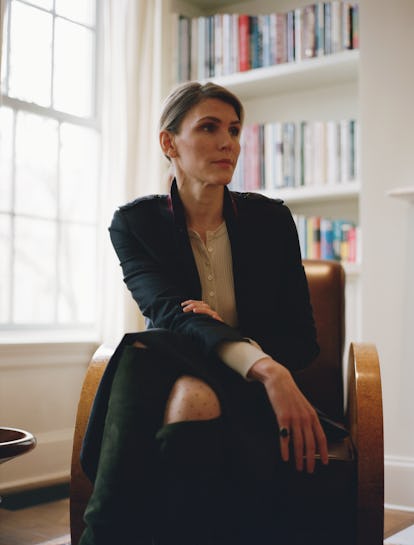 Tomorrow, the designer Gabriela Hearst is hosting her first full-fledged runway show at New York Fashion Week, but just two weeks ago she was calm and comfortably perched on a white couch in the second-floor sitting room of her West Village townhouse. In the realm of fashion, chic is an overworked word, but there's no way of getting around it here.
The five-story residence feels even more spacious thanks in part to its cream-colored palette and rich wood accents. In nearly every room there is a special piece of art, many of which are by Latin American artists, including the painters Fernando Botero, from Colombia, and Diego Gravinese, from Argentina.
Hearst herself was born Gabriela Perezutti in Uruguay, on the family cattle ranch. She broke from the clan by deciding to study media—"the most extreme alternative path," she recalled—eventually moving to New York to work on production for a film that never came to fruition.
From there, Hearst, who also moonlighted as a model, began to work for a small designer before breaking out on her own, launching her line Candela in 2004. When, a decade later, she began to feel disconnected from the contemporary feel of the label, she started Gabriela Hearst, the ultra-luxe line manufactured in Italy and New York in multigenerational family mills, whose calling is its quality. "It's an exercise of never compromising," Hearst told me.
It's an attitude that recently won her the International Woolmark Prize, which rewards designers who showcase the versatility of Merino wool. The competition started in 1953 with Yves Saint Laurent and Karl Lagerfeld taking top honors. Not bad company.
"It was very clear to me from the start what I wanted to do with this collection," Hearst said of the year-and-a-half long process. "I wanted to show how ultra-thin and luxurious wool can be. I grew up in a ranch in South America, which is all wool gauchos and ponchos. I can talk about wool for hours."
Since launching her namesake label, Hearst's pieces has been worn by Allison Williams, Brie Larson, and Gugu Mbatha-Raw, among others, but the most notable stamp of approval came from another design luminary outside of the fashion industry.
When she was toying with the notion of launching her first bag in 2015—the now extremely popular "Nina" style—Hearst brought the prototype with her on a business trip to London. "I was in the elevator at Claridge's and this guy turned to me and said, 'Oh, that's an interesting bag,'" she recalled. "I told him it was a prototype, and he said, 'If you make them, can you send me one?' and handed me his card. It was Jonny Ive, from Apple! I was freaking out. It was like the god of design telling you that your design is right."
Her own home is a reflection of her design acumen. She and her husband John "Austin" Hearst, the grandson of the publisher William Randolph Hearst, purchased the townhouse in 2012, but took two years to renovate it before moving moving in with their eight-year-old twin girls and two-year-old son, as well as Austin's stepson, who is currently studying at Brown.
"It took us two years to customize it," Hearst said of the original property. "It had a wet bar on every floor, and we are a family of five." To make the house better suited to family-suited, Hearst enlisted the help of interior decorator Daniel Romualdez, who outfitted the space with new pieces, all created by different designers but sourced from the same factory to give the home an eclectic yet cohesive feel. The overall product feels both impeccably stylish, yet warm and welcoming.
But as much as Hearst's home is an echo of herself, it is also in some ways an aspiration towards a life she is maybe much too busy right now to lead. For example, her favorite room in the whole house?
"I love my bathroom," she said, laughing. "I have this fantasy where I really love to take baths… but I don't. "
See W's most popular videos: