Gabrielle Union Has a Heartbreaking Response to Florida School Shooting
"How many more? How many children must not make it home?"
---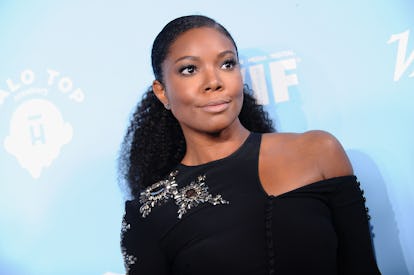 Jason LaVeris
Marjory Stoneman Douglas High School was supposed to be a safe school. Situated in the pristine suburban outskirts of Broward County in the City of Parkland (often called Florida's safest city) and named after South Florida's most important environmental activist, it has a reputation as one of the best public high schools in the area. Today, tragically, it became the site of the 212th school shooting in America since 2000. At least 20 people were reportedly injured, and the state's U.S. Senator Bill Nelson has confirmed that there were "a number of fatalities."
19-year-old former student Nicholas Cruz is believed to be responsible, and was apprehended by local police after attempting to flee the scene. Details of the tragedy remain unconfirmed.
Many have taken to Twitter to offer condolences and calls for tougher gun laws, but the situation hit particularly close to home for the actress Gabrielle Union. She lives in South Florida with her NBA player husband Dwyane Wade, a member of the Miami Heat, and is an active stepmother to his three sons.
"Like thousands in South Florida, we sent the boys to school in Broward County this morning… there are no words to describe the despair, horror & anger," she wrote on Twitter. "This does not have to be our collective reality. How many more? How many children must not make it home?"
Gloria Estefan, another famed South Florida resident and mother, offered similar reflections on Twitter:
"And on this day that we should be celebrating love, my beloved Florida is once again assaulted by gun violence," she wrote. "Yet again senseless misery is inflicted on the loved ones of innocent victims whose only fear should have been not being able to finish their homework.???What now?"
Like many of us, both were left with questions about how this is allowed to happen again and again on American soil when such attacks occur nowhere else on earth with such frequency. Unfortunately, thanks to our broken political system and those that would rather offer "hopes and prayers" rather than solutions, these will likely be questions we continue to ask ourselves over and over.
Related: Sarah Sophie Flicker: Why the Gun-Control Debate Is Inextricably Linked to the Rest of the Political Landscape Right Now