Gaga for Goga
Who knew oil tycoons could be this sexy— and scandal-prone? Christopher Bagley meets the unlikely mogul taking English society by storm.
---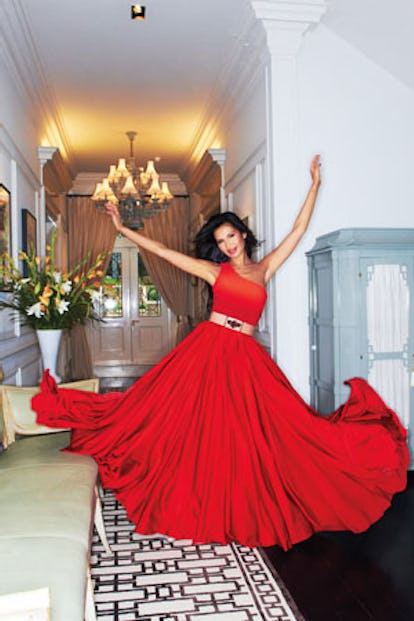 In a room full of opulent and expensive objects, it can sometimes be difficult for a woman to get herself noticed. Among the items competing for a visitor's gaze in the salon of Goga Ashkenazi's London town house are a massive Pierre Bobot lacquered screen, two beaded pagoda chandeliers, and a Picasso drawing of a deranged-looking frog. But Ashkenazi—the entrepreneur and socialite who is gliding through the room in a silk Lanvin dress, having flown in from Kazakhstan by private jet a few hours before—is easily the house's most eye-catching and expensive-looking accoutrement. As her butler delivers a glass of iced green tea on a silver tray, she settles into an armchair with the slinky ease of someone who is accustomed to being watched.
And indeed, anyone who moves in London's glitziest circles (or reads about them in the British newspapers) knows that Ashkenazi, 32, never has trouble attracting atten­tion. Even if she hadn't spent $45 million in cash on this house in posh Holland Park, or developed a close and controversial friendship with Prince Andrew, or had a child with a billionaire oligarch while he was married to the daughter of the president of Kazakhstan, this Oxford-educated oil mogul—who goes wolf hunting in her spare time—would certainly have made a name for herself.
"I think my life is very exciting, very interesting," she says with some understatement. » "There is a Russian saying about how only a dollar bill can be liked by everyone. I am not a dollar bill."
Ashkenazi especially enjoys making news for her business accomplishments, which, as it happens, are substantial. The chairwoman of energy services conglomerate MunaiGaz, founded with her elder sister in 2004, she has dominated a lucrative niche in Kazakhstan's thriving oil industry; more recently she has diversified into other ventures, ranging from gold mines to a luxury shopping website. These days, though, much of the talk about Ashkenazi centers on her lavish spending and high-powered friends. At her 30th-birthday party in 2009, Prince Andrew, Natalia Vodianova, and an array of London players including Nick Candy and Robert Hanson mingled in the gardens of Tyringham Hall alongside fire-eaters and stilt-walkers, as a bartender poured vodka shots while hanging upside down from a trapeze.
Ashkenazi's social ascent, however, has been interrupted by occasional stumbles: This past spring, for example, she indiscreetly told an Evening Standard reporter that Prince Andrew had confided in her while facing criticism for his friendship with financier and sex offender Jeffrey Epstein. Her comments, she says, were misrepresented in print, but when the networks began sending news crews to her front door, she decided it was time to leave the country for a while.
Ashkenazi at home in Balmain.
Drama, in any case, is nothing new for a woman whose life story reads like a hybrid of a romance novel and a James Bond film, with occasional touches of a Brazilian telenovela. The daughter of a prominent Kazakh member of Mikhail Gorbachev's Central Committee (Goga is a nickname for Gaukhar, which means "diamond" in Kazakh), she spent her early childhood in Moscow, where her family was granted a spacious home, a household staff, and other perks then standard among the Soviet elite. Her parents sent her to boarding school in England at 13, and it was at Stowe three years later that Ashkenazi sparked her first public scandal. Caught kissing a boy in her room, she was sentenced to a 10-day detention in a teacher's house; by the time she got out, she recalls, the rumors were raging: "They said I was shagging someone in the broom cupboard!" Mortified, she asked to be transferred to another school and, after working as a model over the summer, landed at Rugby in Warwickshire, where her reputation had preceded her. "So many boys wanted to show me around, you have no idea," she says.
At Oxford, Ashkenazi studied history and economics—while also appearing as Miss November in the school's girlie calendar. During a summer gig in London as an analyst at Merrill Lynch, she got her first dose of the addictive buzz of high finance. And one night at the Jermyn Street club Tramp, she met telecom tycoon Dino Lalvani, who quickly became her lover (until she moved on to Italian tycoon Flavio Briatore). "That night Dino was with a date, a very famous model, whose name I'm not going to tell you because she's now a friend, and it's not nice what he did to her," Ashkenazi says. "He just totally switched from her to me. She was like, 'Dino, I want to go home!' and he was like, 'Okay, the driver is upstairs. Bye!'"
During the years since, Ashkenazi's life has offered up an equally stimulating mélange of big money, glamorous parties, powerful men, and sticky situations that generally work out in her favor. In her early 20s, while working at a private equity firm in London, she fell in love with American hotel heir Stefan Ashkenazy and quit her job to live with him in Los Angeles, settling in among the trophy-wife set. Boredom quickly ensued, and the marriage fell apart. "Stefan is a wonderful man," she says, "but I thought, Is this going to be my life forever and ever? Am I going to have babies and just be left here, in Malibu on the beach? I realized I really had to do something."
It was around this time that Kazakhstan was opening its economy to investors, and Ashkenazi got a contract to build a compressor station there, hired a fleet of petroleum engineers, and immersed herself in the intricacies of turbine technology. "Luckily we made some good choices and built a great team, so it just sort of rolled," Ashkenazi says. "First we won a small bid, then a bigger one and a bigger one." Later the company expanded into pumping stations and electrical substations, and Ashkenazi learned to deal with the unique challenges of running a company in Kazakhstan—including staying calm when you're told that 50 security guards at one of your construction sites have just quit en masse after 10 gunmen stormed the facility to steal a cement truck.
People who have done business with Ashkenazi say she can be as hard-nosed and tough as any male mogul. "She is extremely focused, very direct," says her friend Robert Hersov, a private-jet entrepreneur and mining heir. Ashkenazi traces these so-called masculine qualities to the influence of her father, who wanted a son and ended up making Goga his sidekick on hunting and fishing trips. But her mother also insisted on dancing and piano lessons, which explains why Ashkenazi is known to play Rachmaninoff for guests on the Steinway in her living room.
Ashkenazi's feminine allure remains an essential part of the package. Shortly after launching her business in Kazakhstan she met Timur Kulibayev, the oligarch who now controls the country's oil industry and is seen as a possible successor to his father-in-law, President Nursultan Nazarbayev. They eventually became involved and had a son—Adam, now three—while Kulibayev remained married to Nazarbayev's daughter Dinara. Ashkenazi is still in close contact with Kulibayev, though she declines to discuss their relationship. "He's a politically sensitive sort of character, and I don't want to put him in a place where he's hurt in any way," she says.
Then there's her buddy Prince Andrew, who in 2007 presented Ashkenazi to the Queen in the royal box at Ascot. It's unclear whether the two have ever been romantically involved, but in the press Ashkenazi has lately been lumped together with a group of Andrew's "dubious" friends—megarich foreigners like Epstein and Kulibayev, who some say aren't worthy of him. One allegation in particular makes Ashkenazi bristle: that in 2007 she spearheaded the much criticized sale of Sunninghill Park, Andrew's former home. Kulibayev bought the estate from the Prince and paid about $5 million above the asking price, allegedly to curry favor with Andrew, who serves as Britain's special trade representative. Given that the two men first met through Ashkenazi, the Daily Mail has zeroed in on her role in the affair, deeming her Andrew's "femme fatale fixer."
"What do you mean 'fixer,' for God's sake?" Ashkenazi asks. "I introduced them, that's all. They started speaking, and it just happened that one was looking for a house and the other one wanted to sell." She says Kulibayev didn't realize he was overpaying for the house, and in any case he felt it was inappropriate to haggle with a prince. Recently, Ashkenazi says, "somebody told me that The Sunday Times wants to write that I got a commission for the sale. I'm like, Are you joking? Now I'm selling houses? All I did was introduce two friends of mine who became friends, and whatever they did is not my business, really."
Whatever the facts, such stories have added to the impression that Ashkenazi is bent upon realizing her ambitions by any means necessary. There's also been speculation about whether Kulibayev has financed some of Ashkenazi's fortune. Goga's defenders contend that such assumptions are inevitable in England. "Here, if you're rich and from an aristocratic background, you're supposed to shop at Marks & Spencer and wear your clothes until they fall off of you," says Ashkenazi's friend Caroline Stanbury, a well-connected former London It girl. "Goga likes big diamonds and clothes straight from the runway. And she's unapologetic about it, as she should be. Of course people are going to try to knock her down."
Ashkenazi and I have now moved to a sofa in her sun-dappled garden, where she says matter-of-factly that she doesn't blame Londoners for being suspicious about her wealth. "I understand where they're coming from," she says. "In England people think, How is it possible that you're 32 years old and suddenly you have all this money, unless it was through some shadiness? Well, it wouldn't have been possible in the UK, because here all the niches are taken. But imagine Kazakhstan, where you're starting bare from a state economy where there's not one business. All that empty space has to be filled up by the private sector in 15 years. Somebody had to take a piece of that pie."
From left: Ashkenazi at the Reuben Foundation and Virgin Unite Haiti Fundraiser; amfAR's 2010 Cinema Against AIDS gala; with Elle Macpherson at a private viewing of Albert Watson's "Vintage Watson" exhibition; at a benefit auction for the Elephant Family charity; at a W magazine and De Beers dinner at Art Basel Miami Beach, 2010
She draws a distinction between today and the Nineties, when crime and corruption in Eastern Europe were especially rampant. Kazakhstan was rushing through the messy economic and political cycles that had taken centuries to play out in Western democracies. In the former USSR, she says, "there was a lot of shadiness in the Nineties. A lot. People had to step on other people, sometimes literally. And as in any society, many of the people who were opportunistic and successful were not very refined or proper, unlike those in the intelligentsia, who were more passive." With a laugh, Ashkenazi notes that today's British upper class "would not have survived in Russia in the Nineties. Not for five minutes! You had to be pushy. But if you ask a British aristocrat today how his ancestors behaved when they were achieving their status, they were probably doing the same thing."
One business of Ashkenazi's that requires minimal interaction with gangsters is gift-library.com, the luxury retail website that her pal Stanbury launched in 2008. Ashkenazi came on board as chairwoman last year, seeing it as a rare professional venture that would allow her to indulge her girly side. When not sourcing VBH clutches and Noa emerald necklaces, she has been pushing Stanbury to expand the product range, adding more accessible items to increase revenue. "With Goga, everything always has to be bigger and better," Stanbury says. "She wants to take every business from zero to a zillion in three minutes." Stanbury, who initially hadn't expected Ashkenazi to be very hands-on, now finds herself with an eager companion at trade fairs in Tokyo and Paris. "Goga is hilarious, always there early, with her shopping trolley and her trainers on, ready to go."
Underneath Ashkenazi's high-gloss facade is an unexpectedly winning brand of kookiness, a kind of earthy charisma that makes one almost willing to overlook her more outrageous comments, like the one she makes to an assistant after trying in vain to summon the butler: "What is the name of our butler? Can you tell him to please be around me, all the time?" (He just started this week, she explains later, and adds that she's had bad luck with his predecessors, including one who stole $190,000 before fleeing to Italy.) Later she gripes that the owners of the house she rents for a month every summer in Saint-Tropez are being "very mean" because they keep hiking the price: This year the increase is $140,000. "Ridiculous," says Ashkenazi, who's renting the place anyway.
Her home in London is one of Holland Park's coveted Victorian manses (neighbors include Valentino and Simon Cowell), with interiors by David Collins, the designer of Nobu Berkeley Street and the Wolseley. Collins, like many, recalls being bowled over during his first meeting with Ashkenazi, who was "of course very, very beautiful, wearing Stella McCartney and fabulous shoes." Her main demands, Collins remembers, were "that I promise her that it would be fun, and that I would not let her down." Ashkenazi says she wanted the home to reflect her personality and background: "unique, eclectic, diverse." Hence the Etruscan pottery on the mantelpiece and the garden sculpture of an elephant coated in pennies. There are also two huge walk-in closets on the second floor, organized in sections by color and style, with dozens of Ralph & Russo custom gowns, countless pairs of stilettos, and an area reserved for what she smilingly calls "Chanel stuff."
On a shelf in an upstairs hallway is a framed photo of late Indian guru Sai Baba, which leads me to ask about Ashkenazi's religious beliefs. By now I know better than to expect a conventional answer, and sure enough, she explains that although she was raised an atheist, as was standard in the USSR, she was secretly baptized as a Christian during a childhood illness; her father's roots are Muslim, her mother's are Jewish, and she has recently been exploring Buddhism on her own. "So I'm this christened Jewish Muslim girl with an Asian face and an English accent who's a Buddhist," she says. "I'm really everything, you know?"
Downstairs in the dining room, a Warhol print of Greta Garbo as Mata Hari overlooks the table, where she likes to preside over a motley assortment of dinner guests. "You'll have Andrew Lloyd Webber," says Hersov, "a royal, a politician—sometimes even a Labour politician!—and the head of some Russian mining company." Discussing how she assembled her cadre of London friends, Ashkenazi insists: "It has nothing to do with me thinking, How can I get into high society? I've never had that goal. I just love people! I'm genuinely interested, and I think I present an interesting story as well." She adds, "I can get along with the Queen as easily as I can get along with the cleaner."
Ashkenazi spends only one or two weeks a month in London, but the house has a full-time staff of about 15, including a chef and sous chef. At one point Adam, dark haired and sleepy eyed, walks by with a nanny, and I catch a brief glimpse of Ashkenazi's mother, who has a room on the top floor, alighting from a chauffeured Bentley while being trailed by another woman carrying several Harrods bags.
When asked about the current state of her love life, Ashkenazi is vague. "Let's keep it a mystery," she says. Last year there were reports that she was dating Gerard Butler, and while she doesn't confirm or deny a liaison, she does ask, "I mean, do you see me with an actor? What would I do with an actor?"
Ashkenazi's recent Christmas card.
During the holidays a couple years ago, Ashkenazi sent out a Christmas card with a photo that had been taken during one of her hunting trips in Kazakhstan. It showed her dressed in jeans and a black tank top, with a rifle strapped to her shoulder, straddling the carcass of a large stag she'd just killed. How did her friends feel about receiving an image of a dead reindeer as their holiday greeting? Ashkenazi says a few people didn't see the humor, but she has no regrets. Inside the card, the printed message read: "My wish for you is the same as the one for me—to enjoy life, live every moment, take risks, and benefit from them! Let's have another unforgettable year together! With love, Goga."
Photograph by Roger Deckker. Hair by Gareth van Cuylenburg at Josh Wood Atelier; makeup by Attracta Courtney using YSL cosmetics. Photography assistant: Alice Whitby. Elephant charity: Indigo/Getty Images; Art Basel: Venturelli/Getty Images; Hunt: courtesy of Ashkenazi; All others: Dave M. Benett/Getty Images