Gal Gadot Was Almost Cast In an Iconic Charlize Theron Role
Here's hoping the pair team up one day.
---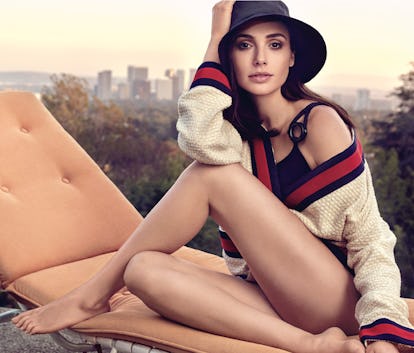 Photographs by Craig McDean, Styled by Edward Enninful; Hair by Didier Malige at Art Partner; makeup by Peter Philips for Dior; manicure by Chelsea King for Orly at Celestine Agency. Set design by Miguel Bento at Streeters; Retouching: Dtouch; Produced by Kyle Heinen For Rosco Production; Digital Technician: Nicholas Ong; Photography Assistants: Nick Brinley, Maru Teppei, Kris Shacochis, Brian Bee; Fashion Assistants: Ryann Foulke, Dena Giannini; Hair Assistant: Jenelle Oldham; Makeup Assistant: Miguel Ramos; Production Assistants: Mike Stacey, David Singh, Bean Bielski, Andres Raygoza.
Actresses Gal Gadot and Charlize Theron have a lot in common. They're both beauties (Theron, a former model; Gadot, a former beauty queen) who can hold their own with the tough boys on screen. They both owe a lot to director Patty Jenkins (who was behind both Gadot's Wonder Woman and Theron's Monster). They both, incidentally, were on the cover of W this year.
So maybe it shouldn't be a surprise that sometimes Hollywood has considered them both for the same roles. In fact, as Gadot recently revealed, she was the second choice for a role that ended up going to Theron instead.
While appearing on The Hollywood Reporter's Awards Chatter podcast, Gadot recounted how close she came to landing various roles before finally landing her breakthrough, star-making gig in Wonder Woman.
"I had so many almosts for big, great things, but I was never a big enough name," Gadot said. "It was always me and the big name."
"I was runner-up for Mad Max with Charlize," she further revealed.
Theron, of course, played Imperator Furiosa, the rogue soldier on a mission, in Mad Max: Fury Road. Theron's performance was singled out as one of the highlights in a movie that was already quite well-received critically. Though, Gadot doesn't have any misgiving about the situation. It's just how Hollywood works.
"Charlize, I love," she added. "It's funny, because we have Patty Jenkins in common. I have a few things [in common] with her."
Indeed, Theron also claimed this year that Jenkins did approach her about taking a role in Wonder Woman, but she had to decline due to previous filming commitments.
Besides the Jenkins connection, they both have gotten awards buzz for roles in action films, a rarity. You'll still find more than a few film fans who swear that Theron should have received nominations for her work as Furiosa (indeed, she was nominated and won a number of film critic circles' awards), and Gadot is considered a dark horse in this year's awards races.
They also have both had roles in The Fast and The Furious series. Gadot, pre-Wonder Woman, played the supporting role of Gisele in four of the film's series. Theron played a villain in the most recent film.
It may not be the last time the pair end up vying for the same or similar roles, but here's hoping the duo winds up on screen together eventually. Perhaps Theron could make time for a role in Wonder Woman 2?
Related: Why Charlize Theron is the James Bond We Need Now
Charlize Theron, Dior Darling, Is All About Edgy Glamour on the Red Carpet
Charlize Theron in Givenchy at the 24th annual American Cinematheque awards in Beverly Hills, California, March 2010. Photo by Steve Granitz/WireImage.

Getty Images
Charlize Theron in a Balenciaga blazer with Alexander McQueen clutch and Stella McCartney heels at the launch party for Rage in Los Angeles, California, September 2011. Photo by Getty Images.

Getty Images
Charlize Theron in Alexander McQueen at W magazine's Golden Globes party in Los Angeles, California, January 2012. Photo by Jeffrey Mayer/WireImage.

Getty Images
Charlize Theron in Dior at the world premiere of Prometheus in London, England, May 2012. Photo by Stuart Wilson/Getty Images.

Getty Images
Charlize Theron in Stella McCartney at the 5th annual Variety Power of Women party in Beverly Hills, California, October 2013. Photo by Getty Images.

Getty Images
Charlize Theron in Givenchy at the Help Haiti Home gala in Beverly Hills, California, January 2014. Photo by Getty Images.

Getty Images
Charlize Theron in Dior at the 86th annual Academy Awards in Los Angeles, California, March 2014. Photo by Getty Images.

Getty Images
Charlize Theron in Dior at the Christian Dior Fall 2014 couture presentation in Paris, France, July 2014. Photo by Foc Kan/WireImage.

Getty Images
Charlize Theron in Dior at the premiere of Mad Max: Fury Road at the Cannes Film Festival in Cannes, France, May 2015. Photo by Daniele Venturelli.

Daniele Venturelli/Getty Images
Charlize Theron in Cushnie et Ochs at the Critics' Choice Television Awards in Beverly Hills, California, May 2015. Photo by Getty Images.

Getty Images
Charlize Theron in Dior at the premier of Mad Max: Fury Road in Los Angeles, California, May 2015. Photo by Getty Images.

Getty Images
Charlize Theron in Valentino at a photocall for Mad Max: Fury Road at the Cannes Film Festival in Cannes, France, May 2015. Photo by Getty Images.

Getty Images
Charlize Theron in Givenchy at Life Ball 2015 in Vienna, Austria, May 2015. Photo by Getty Images.

Getty Images
Charlize Theron in Tom Ford in Hong Kong, China, October 2015. Photo by ChinaFotoPress/ChinaFotoPress via Getty Images.

Getty Images
Charlize Theron in custom Dior at the 88th Academy Awards in Los Angeles, California, February 2016. Photo by Jeffrey Mayer/WireImage.

Getty Images
Charlize Theron in Altuzarra in Milan, March 2016. Photo by Getty Images.

Getty Images
Charlize Theron in a Stella McCartney blouse and The Reformation skirt at a photocall for The Huntsman: Winter's War in Hamburg, Germany, March 2016. Photo by Getty Images.

Getty Images
Charlize Theron in a Saint Laurent blouse, Chloé skirt, and Alexandre Vauthier heels at a photocall for The Huntsman: Winter's War in Milan, Italy, March 2016. Photo by Getty Images.

Getty Images
Charlize Theron in Dior at the Asia premiere of The Huntsman: Winter's War in Singapore, April 2016. Photo by Getty Images.

Getty Images
Charlize Theron in Dior at the premiere of The Huntsman: Winter's War in Westwood, California, April 2016. Photo by Getty Images.

Getty Images
Charlize Theron in Givenchy at the photocall for The Last Face at the annual 69th Cannes Film Festival in Cannes, May 2016. Photo by Getty Images.

Mike Marsland/Getty Images
Charlize Theron in Dior couture at the premiere of The Last Face during the 69th annual Cannes Film Festival in Cannes, May 2016. Photo by Getty Images.

Laurent Viteur/Getty Images
Charlize Theron in Dior couture at the 89th Annual Academy Awards in Hollywood, February 2017. Photo by Getty Images.

Dan MacMedan/Getty Images
Charlize Theron in Dior at the premiere of Fast & Furious 8 in Paris, April 2017. Photo by Getty Images.

Pascal Le Segretain/Getty Images
Charlize Theron in Gucci at the premiere of Fast & Furious 8 in Madrid, April 2017. Photo by Getty Images.

Carlos Alvarez/Getty Images
Charlize Theron in Dior couture at the Berlin premiere of Fast & Furious 8 in Berlin, April 2017. Photo by Getty Images.

Franziska Krug/Getty Images
Charlize Theron in Saint Laurent at the amfAR Hong Kong Gala in Hong Kong, May 2017.

Ulet Ifansasti/Getty Images
Charlize Theron in Dior at the 70th anniversary celebration during the Cannes Film Festival in Cannes, France, May 2017. Photo by Getty Images.

Barcroft Media/Getty Images
Charlize Theron in Prada with Chopard jewelry at the Chopard Trophy during the Cannes Film Festival in Cannes, France, May 2017. Photo by Getty Images.

Pascal Le Segretain/Getty Images
Charlize Theron in Dior at the cruise 2018 Dior show in Calabasas, California, May 2017. Photo by Getty Images.

Chris Delmas/Getty Images
"Wonder Woman" Star Gal Gadot Was a Very Reluctant Pageant Queen: