Wonder Woman Is Both Feminist and Wonderful According to Early Reactions
Don't worry. Critics have seen Gal Gadot in Wonder Woman and the reaction is almost universally positive.
---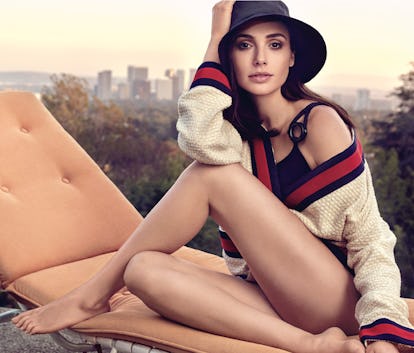 Photographs by Craig McDean, Styled by Edward Enninful; Hair by Didier Malige at Art Partner; makeup by Peter Philips for Dior; manicure by Chelsea King for Orly at Celestine Agency. Set design by Miguel Bento at Streeters; Retouching: Dtouch; Produced by Kyle Heinen For Rosco Production; Digital Technician: Nicholas Ong; Photography Assistants: Nick Brinley, Maru Teppei, Kris Shacochis, Brian Bee; Fashion Assistants: Ryann Foulke, Dena Giannini; Hair Assistant: Jenelle Oldham; Makeup Assistant: Miguel Ramos; Production Assistants: Mike Stacey, David Singh, Bean Bielski, Andres Raygoza.
Heavy is the weight on Wonder Woman's shoulders. Not only is the film charged with helping to turn around the reputation of the flailing DC Comics cinematic universe, there's also the not so small matter that it's the first major female-led super hero movie of the current wave. The future fortunes of other super heroine movies may very well depend on how the Gal Gadot-starring film is received.
The movie won't be released until June 2nd, but Warner Brothers has already screened the film for some critics and have allowed them to share their early thoughts on the movie online. The reaction: it's really, really, really good. In fact, it seems like it may be the best DC Comics-based movie since the days when Christian Bale was playing Batman. Perhaps that's not much of a surprise though, considering Gadot's Wonder Woman seemed to be everyone's favorite part of the other wise meekly-received Batman v Superman: Dawn of Justice.
Here's a sampling of some of the early takes:
That's just a small selection of the early critical raves, but perhaps the most notable reaction comes from star Gal Gadot herself.
Though, some actresses have some what quizzically shied away from declaring their obviously feminst-themed project as actually, you know, feminist, Gadot does not. When Entertainment Weekly asked the star if she thinks her character is feminist, she basically responded, "yes, duh."
"Wonder Woman is a feminist, of course," she said. "I think people have a misconception about what feminism is. People think hairy armpits and women who burn bras and hate men. That's not it. For me, feminism is all about equality and freedom and [women] choosing what we want to do. If it's salaries, then we get paid equal to men. It's not men vs. women or women vs. men."
The only bad news is that everyone else still has to wait two more weeks to see it.
See Also: Gal Gadot Listened to Beyoncé to Prepare for Her Wonder Woman Audition
"Wonder Woman" Star Gal Gadot Was a Very Reluctant Pageant Queen:
Gal Gadot: Wonder Woman on the Red Carpet and Beyond
The young actress first arrived on the scene at the CW Network celebration of its new series The Beautiful Life: TBL dressed in flirty strapless little black dress paired with an oversized tan corset belt. She completed her look with a pair of black cross-strap platform sandals.

Getty Images
At the Los Angeles premiere of Fast & Furious, Gadot looked fresh faced as she posed on the red carpet in a mini purple strapless dress.

Getty Images
The actress appeared at the London World Premiere of Fast & Furious 6 in a edgy black beaded gown that featured a plunging neckline.

Getty Images
On the red carpet of the Los Angeles premiere of Fast & The Furious 6, Gadot showed off her incredible figure in a ombre grey gown featuring a plunging neckline snd thigh split.

Getty Images
The actress opted for a sexy playful look as she posed on the red carpet of the Los Angeles premiere of Riddick wearing a black leather shell top, black and white abstract- patterned circle skirt and a pair of scrappy black heels.

Getty Images
The actress looked smoking dressed in a David Koma cutout little black dress while attending the Entertainment Weekly: Women Who Kick Ass panel at Comic-Con.

Getty Images
At the UK Premiere of The Last Witch Hunter, Gadot dressed in a sleeveless little black dress that featured a bit of fabric draping on the left leg. She completed her look with a pair of strappy sandals.

Getty Images
The actress looked flawless at the premiere of Batman v. Superman: Dawn of Justice in a Balmain cut-out mini dress that showed off the star's toned figure. Gadot topped off her outfit with white Sophia Webster sandals.

Getty Images
Gadot in Dolce & Gabbana at a photo call for Batman v. Superman: Dawn of Justice in Mexico City, March 2016.

Getty Images
Gadot looked ravishing at the European premiere of Batman v Superman, styled in a scarlet Prada gown with a plunging neckline and embellished shoulder straps.

Getty Images
The actress wowed on the red carpet of the Mexico City premiere of Batman v Superman: Dawn of Justice in a high-low floral Giambattista Valli gown that put her stunning legs on display.

Getty Images
Looking simple yet elegant, Gadot opted for a black pantsuit at the UK premiere of Criminal. she topped of her polished look with a pair of black pumps and a gray box clutch.

Getty Images
Gal Gadot in Dolce & Gabbana at a taping for Jimmy Kimmel Live, March 2016.

Getty Images
Gadot looked glamorous in a floral sequin Dolce & Gabbana pencil dress while attending the unveiling of Tiffany & Co.'s renovated Beverly Hills store.

Getty Images
The actress looked stunning at the premiere of Keeping Up with the Joneses, wearing a Dolce & Gabbana strapless dress rendered in gold and silver sequins.

Getty Images
Going with a sultry look while attending a screening for Keeping Up With The Joneses, Gadot opted for a fitted David Koma color-blocked halter and ruffle-hem dress.

Getty Images
The mommy to be dressed up her baby bump in a Mugler slip dress with a sequined bodice and a high front slit for the Golden Globes. She completed her look with black Stuart Weitzman sandals.

Getty Images
The actress attended the 2017 MTV Movie and TV Awards in a fringed blazer dress by Cinq A Sept and Tiffany & Co jewelry.

Getty
Gadot attends a press conference for Wonder Woman in China wearing a cobalt blue gown with slicked back hair.

Getty
For the world premiere of Wonder Woman, Gadot looked the superhero part in a red sequined Givenchy gown.

Getty
At the film's Mexico City premiere, Gadot embraced her dark side in a draped black gown with a dark lip.

Getty