The Battle for the Iron Throne Is About to Begin in New Season 7 Game of Thrones Trailer
By the looks of the first trailer, it just might be the most riveting season yet.
---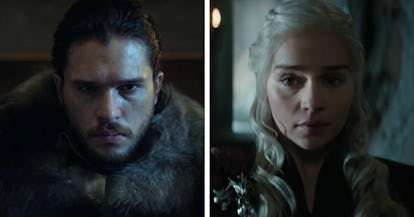 Composite. GameofThrones/Youtube
ICYMI: Winter is coming this summer when Season 7 of Game of Thrones premieres on July 16—and by the looks of the first trailer, it just might be the most riveting season yet. (And coming on the heels of a season that kicked off with Jon Snow literally rising from the dead, that's saying a lot.)
At first glance, the teaser—which HBO revealed Thursday—is just 90 seconds of slow walking, sitting in chairs, and close-up shots of eyeballs. But upon further inspection, the brief clip is so much more: The video gives us our very first peek at the impending three-way battle for the Iron Throne among Cersei Lannister, Jon Snow, and Daenerys Targaryen. And if any of these three power figures fight as intensely as they stare into the camera in this teaser, well, then this quest for the throne is certain to be epic.
Let's break down the trailer even further: Cersei Lannister is seen in the Red Keep, taking her rightful seat on the Iron Throne (if you recall, she was coronated as queen at the tail end of the last season, but at a high cost). Jon Snow is seen looking formidable in Winterfell's Great Hall. And Daenarys takes her seat in what looks to be Dragonstone, a never-before seen in the series castle that Targaryens occupied in the past. The whole thing concludes with Cercei, breathing a visible, frigid sigh, then zooms out to the eye of a White Walker—specifically, the Night King—chillingly staring us down. Cersei vs. Jon Snow vs. Khaleesi vs. White Walkers? If that's not the makings of a crazy, intense season, we don't know what is.
Game of Thrones Season 7 returns to HBO on July 16.
Related: Kit Harington Auditioned for "Game of Thrones" With a Black Eye