Gemma Arterton on Period Pieces and Treasuring Nature's Unfiltered Beauty
Black Narcissus star Gemma Arterton talks about the breathtaking beauty of the Himalayas and catching up on midcentury period pieces during lockdown.
---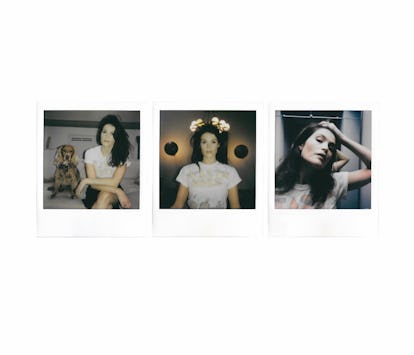 Self portraits courtesy of Gemma Arterton. Special thanks to Polaroid.
Gemma Arterton doesn't mind being indoors. "You can just get cozy," she joked during a call with W from her home in London. During the city's second official pandemic lockdown, the actress has spent her time devouring books (Revolutionary Road was a recent favorite) and contemplating what she'd be like as a director (a "really anxious" one, she guesses). But she's also been examining her participation in a project that's been a long time coming: her starring role in Black Narcissus, a mini-series remake of the Oscar-winning epic from 1947, based on Rumer Godden's novel of the same name.
In the three-part series, which airs its final chapter tonight on FX, Arterton plays Sister Clodagh, a self-flagellating Anglican nun tasked with leading her order to the Himalayas and bringing a divine presence to a formerly hedonistic palace. While she's there, she finds herself reminiscing—against her own will to employ the most self-control a person could possibly exert—on her past in Ireland, before she cut off her hair, donned a wimple, and started practicing custody of the eyes (averting one's gaze to maintain pure, chaste thoughts).
But it's so hard to look away when in the presence of the majestic Himalayan landscape, the Sisters soon learn. The panoramic mountain view is, after all, what really secured the original film as a Technicolor masterpiece, and as actors in the remake, the cast experienced that firsthand, Arterton said. After countless flights and long drives, the cast and crew finally arrived at their filming destination in Nepal last year, to witness the natural terrain that causes the nuns in the story to somewhat lose their minds. "You understand why the nuns were so taken by the beauty of the place," the actress told me. "Because it really is so pure. It's so untampered with and so fresh, and because you're so high up you can quite get quite delirious up there."
The nuns in the story spend their days praying and toiling away, all in the name of god, without allowing themselves a hint of personal satisfaction, even when Christmas gifts are presented to them. "I guess in that particular time, in that particular religious order, god was within, that's what they were taught," she said. "You had to keep everything inward, inward, inward, and wear veils, and practice the custody of the eyes and actually not take in the beauty of the world and not relish in it. It feels completely contradictory to why it's even there, like, why it was even created by god, if not to be enjoyed?"
The beauty of the landscape is not the only source of distraction for the nuns in this particular order. There is also Mr. Dean (Alessandro Nivola), the Englishman who helps out around the palace, and stirs something within Sister Ruth (Aisling Franciosi), a young woman who ultimately believes herself to be competing with Sister Clodagh for attention from the charming older man. "The relationship that she has with Sister Ruth is really hard," Arterton said of her character. "I think Sister Ruth is inspired by Rumer Godden's actual sister. They had quite a difficult relationship, or that she was one of those people that you have to walk on eggshells around and you're not quite sure how they can react," she went on. "I love the scenes with Ruth because Aisling is such a great actress, and we had these great scenes where I had to try and seem like I was the one in control, even though I was afraid of her or her reactions. I felt like I could really identify with her and her situation because we've all had that, right? Someone that you think, 'Oh, I've got to have that chat with them now, and I don't know how this is going to go.' Those were the things that I immediately looked forward to doing."
Like her castmate who plays Sister Ruth, she acknowledged that she, too, preferred to work from the miniseries script, but also from the book as source material, rather than make an attempt to replicate a classic film. "When I watch the film—and not to make comparisons with the amazing Deborah Kerr, but the characters—there's not enough time to really feel the warmth of her," Arterton said. "In the book, you really love her. She's trying to be this nun-like woman, she's trying to be all of the things that she's supposed to be, but there is real compassion and warmth in her and fun, and this wild woman," referring to a flashback in her youth in Ireland, when she was a young woman jilted by a man she loved.
"It's like she's one of us, you know? She's fun and she wants to be loved and she's sensual, and a little bit daring," Arterton went on, explaining her motivation behind humanizing the character of Sister Clodagh. "I needed to make sure I could show elements of that in her present day, even though she's desperately trying to suppress it. That was the challenge, but that's always the most fun stuff to do as an actor because interior struggles are what make people interesting."
Arterton, who is set to star in The King's Man early next year, said she has also spent a portion of lockdown working on a screenplay with director and friend Jessica Swale, with whom she worked for the cottagecore lesbian period drama Summerland. If there is any connection to be made between both Summerland and Black Narcissus, it's that both place an emphasis on the importance of appreciating the beauty of the natural world. "We should enjoy these amazing things like the mountains in the world, and yet these poor nuns are shucking everything out," Arterton said.
Her forthcoming film with Swale is "very early days" according to the actress, but the director has been encouraging Arterton to write more as part of the project. Swale told W this summer, "One of Gemma's brilliant characteristics is that she's super prepared, and that she will also try things and be spontaneous." When asked if successfully employing that skill as an actor meant she might be poised to direct one day, Arterton said she would like to, but is hesitant about the depth of one's involvement with actually making and editing a film. "You have to really, really care about a piece to direct it. I wouldn't be able to do something that somebody else had written," she said. "I would have to really be invested in it in a deep way. I haven't read anything that's made me feel like that."
Before going back to her lockdown activity of reading books and catching up on every midcentury period piece imaginable with her husband, Arterton had one more thing to add about the industry. "I do really love acting!" she laughed. "And I could try to do that a bit more before I start hiding myself away in an editing suite, agonizing over a film for three years."
Related: Aisling Franciosi Isn't Trying to Recreate an Iconic Performance in Black Narcissus