Four Gender Neutral Denim Brands Getting Into the Unisex Game
The labels AG Jeans, Guess, Closed and Mother have launched new denim lines that don't confirm to gender stereotypes.
---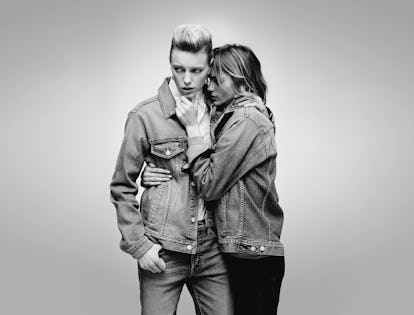 Courtesy Mother
Jaden Smith, wise beyond his 18 years, claimed that fashion is about "dressing a generation." If that's the case, designers and retailers are doing a pretty decent job of catering to the public's shifting perception of gender norms. Months after Zara joined the movement towards non-binary fashion, debuting its Ungendered line of jeans, sweatshirts, and tanks, a slew of denim companies are releasing their own unisex collections.
Today, the German denim label Closed released a 12-piece collection called "EQL." Designed by sibling modeling duo Toni and Niklas Garrn, it includes slouchy jeans, an oversized bomber jacket, and T-shirts that proudly state "Same Same Not Different." This fall, Guess jeans is launching His + Hers, a line of wardrobe staples that—despite the name—attempts to "blur the line" between the sexes. As such, black skinny jeans are cut on the slouchier side and a wool military coat comes in petal pink.
Meanwhile, when AG Jeans set out to create a knit denim collection—the first of its kind—the brand wanted to do it with equally forward-thinking silhouettes. Its Indigo line, launching this fall, features genderless tailored coats, cropped sweatshirts, and wide leg trousers. "It's all about layering and playing around with different pieces," said AG designer Sandy Oh. Taking it one step further, Mother's Tim Kaeding and Lela Becker partnered with IO Tillett, a transgender artist and activist who photographed 10,000 LGBTQ people for a series titled "Self Evident Truths."
Together, they conceived "Love Your Other," a collection that celebrates individuality with workwear-inspired flight suits, bomber jackets, a skinny and straight-leg jean, and a series of T-shirts emblazoned with phrases like "Not 100%" and "Labeless."
To emphasize the point, they removed all labels from the clothing. "It's all about taking these clothes and wearing them the way you want to," said Kaeding, who has lately been sporting the same jeans ("The Proper") as Becker—his slim on the leg, hers a little hip-slung.
But then such is not an entirely new concept in the denim world: "Back when jeans first became popular in the '50s, they were unisex," noted Kaeding. "James Dean wore the same ones as Marilyn Monroe—they just styled them differently."