Geneva watch fair dispatch: Time for lovers
Love and horology go hand in hand. No where is that more in evidence than at the SIHH watch show in Geneva this week, where every watch as a poetic story to tell. The most...
---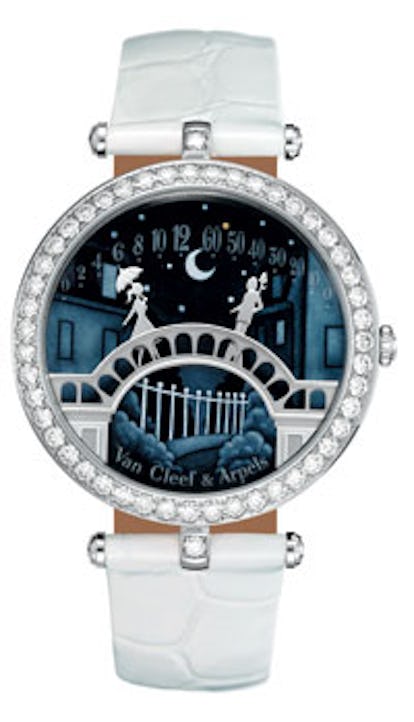 The most stunning example we found this week is the Bridge For Lovers (Le Pont des Amoureux) watch by Van Cleef & Arpels. The round white gold case is set with diamonds, and features a hand-enameled dial and engraving on the back. But its extraordinary mechanical movement is what that sets it apart. The complication, as it's known, is one in which the minute and hour hand move toward one another. The gentleman featured as the minute man moves quickly, while the lady that represents the hour moves slow, guaranteeing that the two lovers depicted on the watch will meet twice a day, once at noon and once at midnight. It may not be the recipe for a lasting relationship, but it is definitely the most romantic timepiece we've ever seen.
Previously: Bye-bye big, bloated watches. At the Geneva watch fair, thin is in!