George and Amal Clooney Welcome Twins
The actor and lawyer are now parents to a boy named Alexander, and a girl named Ella.
---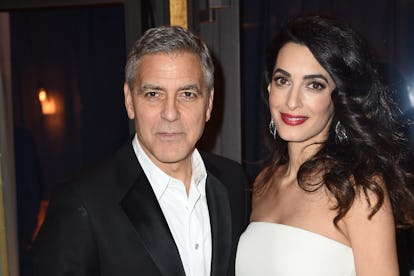 Stephane Cardinale/Corbis/Getty Images
The next generation of Clooneys has arrived. Actor George Clooney and his wife, the lawyer Amal Clooney, welcomed twins—a boy named Alexander, and a girl named Ella—on Tuesday morning, reports People.
"This morning Amal and George welcomed Ella and Alexander Clooney into their lives. Ella, Alexander and Amal are all healthy, happy and doing fine. George is sedated and should recover in a few days," Clooney's rep said in a statement to People.
The couple was reportedly staying at their home in Sonning, England leading up to the birth. In late March, Cindy Crawford, a friend of the couple, hinted on Instagram that they were expecting a boy and a girl with a pair of strategically colored onesies.
News of the Clooneys' two new additions to the family went public in February, after The Talk co-host Julie Chen announced Amal was expecting on air. "Beyoncé is not the only superstar expecting twins—congratulations are in order for George and Amal Clooney," Chen said on the talk show. "The Talk has confirmed that the 55-year-old superstar and his highly accomplished 39-year-old attorney wife are expecting twins. Give her the armrest, by the way, she's pregnant!"
A source told E! News in April that the couple planned for Amal to give birth to the children in the United Kingdom, where they will be raised for the first years of their lives. Amal herself grew up in the U.K., and her legal practice is based in London. E! also reports that while she does plan to go on maternity leave, the new mom has no intention of permanently leaving her work as a human rights lawyer.
George and Amal Clooney first met in 2013. The two wed a year later in Venice before a crowd of Hollywood A-listers.
Congratulations!
The 12 Best Celebrity Weddings, From Kim and Kanye to Amal and George
Kate Moss and Jamie Hince had the picture-perfect English rose wedding in Southrop, England in 2011. Photo by Neil Mockford/FilmMagic.
Solange Knowles and Alan Ferguson married in New Orleans in 2014. Photo by Josh Brasted/WireImage.
Yves Saint Laurent's muse Loulou De La Falaise and Thadee Klossowski De Rola married in Paris in 1977. "Wedding Belles," photographed by Shawn Brackbill; W magazine October 2012.
Newlyweds Humphrey Bogart and Lauren Bacall in 1945. Photo by The LIFE Picture collection/Getty Images.
Kim Kardashian and Kanye West married in Florence in 2014, and Kim got to take advantage of her close relationship with Givenchy designer Riccardo Tisci for the occasion. Photo by @kimkardashian.
Calvin Klein married Kelly in Rome in 1986. "Wedding Belles," photographed by Shawn Brackbill; W magazine October 2012.
Amal Alamuddin and George Clooney married in Venice — a fleet of boats shepherded them to the ceremony — in 2014. Photo by Andreas Solaro/AFP/Getty Images.
Rolling Stones frontman Mick Jagger married Bianca Jagger in Saint-Tropez in the south of France in 1971. Photo by Keystone/Hulton Archive/Getty Images.
In front of guests like Diane Kruger and Constance Jablonski, Jason Wu married boyfriend Gustavo Rangel in Tulum earlier this year. Photo by @janekeltnerv.
Poppy Delevingne and James Cook married in London in 2014, and no one could upstage Delevingne's Chanel couture gown (not even model sister Cara). Photo by Stuart C. Wilson/Getty Images.
Grace Kelly prays before her wedding to Prince Rainier of Monaco. Photo by Thomas D. McAvoy/The LIFE Picture collection.
Elizabeth Taylor and Richard Burton at their first wedding, 1964. Photo by William Lovelace/Evening Standard/Getty Images.
George Clooney Reveals His Cinematic Crush