Justice for George Floyd: What to Read and What You Can Do
Where to donate, who to follow, and what to put on your reading list amidst the nationwide protests.
---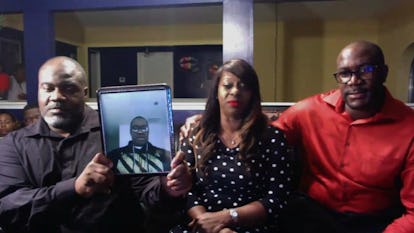 Courtesy of CNN
"When the looting starts, the shooting starts," President Donald Trump tweeted on Friday. Then Miami police chief Walter Headley coined the threat in 1967, when he held a press conference and claimed his department "doesn't mind being accused of police brutality." Trump didn't repeat the last part, but his meaning was clear: When it comes to the current wave of protests and riots in Minneapolis, Trump's allegiance is with the police.
The video of Derek Chauvin kneeling on the neck of George Floyd for nearly eight minutes, as he and three of his fellow police officers ignored Floyd's pleas that he couldn't breathe, has been spreading since Monday. So has the outrage. In Minneapolis, where Floyd was murdered, protests, civil disobedience, and looting have shaken the city. And across the country, more and more people are proving a pandemic won't stop them from taking to the streets. At the same time, more and more police departments are proving that violence remains their standard—even for pregnant women and children.
You don't necessarily have to stop social distancing to take a stand. You can still demand justice from home, starting with educating yourself about what's happening—and been happening for decades, if not centuries. (Hence why so many of the stories you'll find in the suggested guide below are sadly evergreen.)
Study Up
• The Minnesota protests are part of the same cycle as those of Baltimore and Ferguson. Read more in "The Shooting of Black Americans Started Long Before the Looting" and "Why Minneapolis and Ferguson Are More Similar Than You Think."
• "For far too many Americans, it is easier to mourn the destruction of a series of chain stores, owned and operated by millionaires, than the death of a Black American. A stolen lamp is worthy of a kind of empathy that a black person could only dream of." Read more in "This Is What You Get."
• Yes, it makes sense for protesters to target Target. Read more in the essential "In Defense of Looting."
• "The fact that Mr. Floyd was even arrested, let alone killed, for the inconsequential "crime" of forgery amid a pandemic that has taken the life of one out of every 2,000 African-Americans is a chilling affirmation that black lives still do not matter in the United States." Read more in "Of Course There Are Protests. The State Is Failing Black People."
• "Imagine again that you were scrolling through Twitter and stumbled across the image of a coronavirus victim, dead in a morgue … There are some things that are too painful to look at: like when you stare directly into the sun, its image is stuck at the centre of your vision all day. But images of black people being killed in the US have become part of the furniture of our lives." Read more in "We Shouldn't Have to Witness George Floyd's Killing For It to Spark Outrage."
• "The problem is not police training, police diversity, or police methods. The problem is the dramatic and unprecedented expansion and intensity of policing in the last 40 years, a fundamental shift in the role of police in society. The problem is policing itself." Read more in The End of Policing, which Verso Books is currently offering as a free e-book.
• Cops are killing people at the same rate as pre-pandemic years. Read more in "The Pandemic Is the Right Time to Defund the Police."
• Despite the increase in outrage, it's still notoriously difficult to hold the police accountable in the United States. Read more in "Thousands of Complaints Do Little to Change Police Ways" and "Police Can't Solve the Problem. They Are the Problem."
• "Some white people act as if there are two sides to racism, as if racists are people we need to reason with. They fret over the destruction of property and want everyone to just get along. They struggle to understand why black people are rioting but offer no alternatives about what a people should do about a lifetime of rage, disempowerment and injustice," Roxane Gay writes. Read more in "Remember, No One Is Coming to Save Us."
• In the time that Kara Brown took to write about Alton Sterling in 2016, Philando Castile was also murdered. Read more in "Am I Going to Write About Murdered Black People Forever?."
• "We perceive a weird and ancient adrenaline in many of the cop callers, who have internalized that the police are their personal valets, ready to treat any perceived inconvenience as violence," Doreen St. Felix writes of the "American genre" of videos documenting social aggressions. Read more in "The Summer of Coupon Carl, Permit Patty, and the Videos That Turn White Privilege Into Mockable Memes."
• Black people are dying from COVID-19 at three times the rate of other Americans. Read more in "The Coronavirus Was an Emergency Until Trump Found Out Who Was Dying."
• "Self-defense, like the Second Amendment, like stand-your-ground laws, has been colonized by white men," Ibram X. Kendi writes. Read more in "Who Gets to Be Afraid in America?."
• Amy Cooper was just the latest in a long list of white women. Read more in "The Tricky Exceptionalism of 'Fellow White Women,'" "How White Women Use Themselves as Instruments of Terror," and "Millions of Amy Coopers."
• If applicable: "75 Things White People Can Do For Racial Justice" and a lengthy list of anti-racism resources for parents and white people.
Donate
The GoFundMe for George Floyd's memorial has already exceeded its goal by $500,000. And while the Minnesota Freedom Fund and Brooklyn Community Bail Fund remain more than worth supporting, both have suggested considering other funds receiving less attention, some of which you can find below. Better yet, ask your friends, family, and followers to match your donations.
• Reclaim the Block, which advocates for defunding Minnesota state police.
• Black Visions Collective, a Minnesota Black Lives Matter affiliate.
• State and community bail funds, which you can find in the National Bail Fund Network's directory and this continuously updated spreadsheet. You can also split your donations among a number of bail funds at the same time.
• Free Them All For Public Health, which is support bail for demonstrators in New York City. (Donate via CashApp or Venmo.)
• Campaign Zero, which compiles research-based policy solutions to end police brutality.
• Unicorn Riot, an ad-free independent media source and nonprofit.
Follow
For news and thoughtful takes on the news:
• The Appeal president and Justice in America podcast co-host Josie Duffy Rice.
• Human rights lawyer, activist, and Guardian columnist Derecka Purnell.
• Activist and former Women's March co-chair Tamika Mallory.
• The New York City-based incarceration, bail, and public health resource Free Them For All Public Health.
• Antiracist Research and Policy Center director Ibram X. Kendi.
• Activist and Campaign Zero cofounder Brittany Packnett Cunningham. (See: her tweets on Breonna Taylor and guide to self-care.)
• Activist, organizer, and educator DeRay Mckesson.
• Black Lives Matter co-founder Alicia Garza.
• Huffington Post editor Philip Lewis.
• New Yorker staff writer Doreen St. Felix.
• "In Defense of Looting" author Vicky Osterweil.
• White House correspondent Yamiche Alcindor.
• Washington Post political correspondent Jenna Johnson.
• 60 Minutes correspondent Wesley Lowery.
• Writer Mimi Zhu.
• Activist Dom Roberts.
https://www.instagram.com/p/CAvYyaaj0hX/
Reach Out
Email and call Minnesota's county and city attorneys to demand protesters' release. Black Lives Matter has a running list of who to call and text, along with email templates, and a list of current petitions.
Watch
Tamika Mallory on looting:
Martin Luther King, Jr. on rioting:
Cornel West on why the U.S. is a "failed social experiment":
Cardi B on police brutality:
Vote
But first, read up on your options—especially when considering candidates who've worked in criminal prosecution. If you live in New York City, take a look at this "Who's Taking Cop Money?" spreadsheet and take note of who's promised to donate that money to bail funds. Listen to Cardi B and register here.
Consider Protesting
"I'm terrified of the coronavirus… But I had to choose which virus poses the biggest threat. And that's the police," a 24-year-old named Sućdi told The Cut this week. Hers is a dilemma that many face—but perhaps none more so than black people, who are dying from COVID-19 at a disproportionately higher rate in the United States. If you are part of a lower-risk demographic, consider using your privilege as safely as you can. One option is to support protesters from the sidelines with water, first aid kits, and milk for those hit with pepper spray.