It Takes Money, Honey: An Audience with the Feisty Georgette Mosbacher
Before the White House Correspondents' Dinner, the Washington and New York doyenne shares a few thoughts about Donald Trump, Hillary Clinton and the topsy turvy 2016 election.
---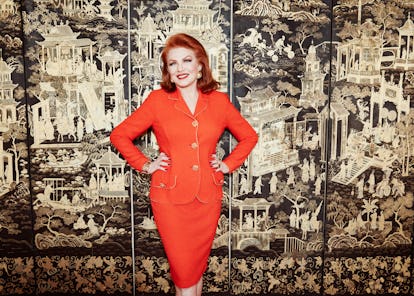 Georgette Mosbacher will be the first to admit she's never been one to hold her tongue. "My friends say, 'Your shortcoming, Georgette, is you just can't help but tell the truth,'" she said.
Mosbacher, resplendent in red, was in the sitting room of her sprawling Fifth Avenue apartment overlooking the Metropolitan Museum of Art on a recent afternoon. She was surrounded by a few creature comforts – crystal chandeliers, gold-tasseled silk settees, a portrait over the fireplace of herself in Chanel couture, and a mild-mannered Cavalier King Charles named Geneviere that responded on command to her husky, playful voice.
Since the Nixon administration, Mosbacher has been one of the grande dames of Republican circles in Washington and New York, a feisty redhead and enthusiastic hostess of politicians and heads of state whose checkbook and dinner parties have bought her continued influence within the GOP, even after her divorce from Robert Mosbacher, the former Secretary of Commerce under George H.W. Bush. To this day, all Republican heavy-hitters come through these doors to break bread and kiss her baroque canary diamond ring.
In fact, she's known the leading Republican presidential candidate for quite some time and is not afraid to shout it from the rooftops. Donald Trump, she said, is "a gentleman, "authentic," "charming." But "as long as I've known Donald, it never occurred to me [that he would run for office]!"
She celebrated his 40th birthday with him (both Mosbacher and Trump are 69) and attended his wedding to Melania ("he made an effort to greet every single guest and it was a big wedding"). And he let Mosbacher—and her dog—hitch a ride on his jet to the opening of the Wynn Hotel in Las Vegas in 2005.
"And I know Donald is funny about germs. Anyone who lets me bring my dog on their private plane will always have a special place in my heart! I'll admit it up front!" she said. When she thought of all the flak he's taken lately, she was taken back.
"This idea that he hates women is just…" She shook her head, vaguely referencing some of Trump's most criticized comments (including, but not limited to, calling women "bimbos," "pigs," and "golddiggers"). "To have known him as long as I've known him, that's the antithesis of him. It's unfortunate. But words matter."
As for the rest of her cohort, the society pals with whom she and Trump have hobnobbed with since the '80s and '90s, she's less sure if they will turn out for the candidate, or even concede their support in public.
It's not that Trump has offended people with his crass bluster and controversial comments.
"Quite frankly," Mosbacher said, "Some of the things Donald has said, no question are uncomfortable, but to be honest, I've heard those things at dinner parties in New York City many times by other people, and while they're offensive to some degree, the hypocrisy of it! Believe me, it's not something I haven't heard before."
Trump's real problem, she argued, is that he's an outsider.
"One of the great things about New York is it's competitive, which forces you to be better and on your toes and stretch yourself and your mind and your ambition," she said. "The other side of that is it can be petty; the jealousy, the superficialness. So I'm sure Donald is getting some of that. That's inevitable. It's also inevitable for anyone with his success, who is running for a powerful office. The one thing: you can have all the money in the world but the one thing these billionaires want is real true power and only that comes from Washington and that can't be bought. People think it can, but it can't. I can already see it."
Mosbacher knows a thing or two about that. Though she married into privilege—her second husband was George Barrie, the former chief executive of Faberge—and she enjoyed the perks she earned independently, as the former owner of La Prairie, it wasn't until she linked up with Robert Mosbacher in 1985 that she began to understand the influence political clout buys.
"I joke I'm a redneck who lives on Fifth Avenue," she said.
When they finally divorced a little over a decade later, she made sure to stay in the game by becoming a fundraiser for the GOP—she was co-chair of the Republican National Committee's Finance Committee—and even backed her old friend John McCain in 2000 over George W. Bush.
For that reason, her dinner parties continue to be de rigueur. "I have a round table for eighteen [in my apartment] and they can get frisky," she said with a mischievous smile. "There are certain rules and they are off the record and that's why you've never read about them in Page Six in all the years I've been doing them. People don't repeat what they've heard here; I don't let them descend into personal insults, although we've come close and I always say: No food throwing!" Easier said than done: Guests at her most recent salon last week included former Texas governor Rick Perry, the financier Carl Icahn, the grocery store mogul John Catsimatidis, and David Howell Petraeus, the former general and head of the CIA.
"It got frisky. I'll put it that way. Between Petraeus and I, it got interesting!" she said.
Her guest-lists are eclectic, and include a mix of politics and business and media, but it's the political power brokers she pulls in that are most impressive: "Cruz has been here, Kasich has been here, Donald has been here," she said casually, though she refused to say for whom she voted for in the New York primary that Trump won. Notably, she has not donated this campaign cycle, according to the Center for Responsive Politics. (A tough broad herself who's known for her philanthropy, her latest program, Protect Our Daughters, is aimed at training young women with self-defense techniques.)
"Not since they've been running, but almost every one of the seventeen [Republican presidential candidates], they've all been here. Certainly all of the leadership in congress has been here, even some of the Democratic leadership," she said. "Certainly all of the Republican leadership, there's not one I couldn't pick up the phone and speak to right now."
And while she is a self-proclaimed die-hard Republican ("those are my core values; they just are"), she spoke fondly of some Democrats. "I personally like [Hillary Clinton]," Mosbacher said. "She's always reached out to me. In terms of her politics, I think she is as [far] left as Obama. In terms of her character, I've always found her to be personally nice. Her record is what it is." Then, she couldn't resist sneaking in a gibe: "In terms of not telling the truth, that's a big deal for me, and where I come from, there's no such thing as a little white lie."
She has reservations, however, about the sitting president. "I will tell you, I have met and known on a first-hand basis every president since Richard Nixon, and I have never met [President Obama]," she said tactfully, with the same skill she employed to run businesses and committees, host philanthropies and parties.
When pressed, she sums it up, fittingly and perhaps without realizing it, in a dinner party analogy: "This is a president who you can not sit across the table from."
So does that mean Trump will be our president come November, a man she has symbolically and literally sat with?
"I have no idea what's going to happen," she said, widening her eyes. "I know politics, and I still don't know. I've never seen anything like this before. They'll write books about this [election] some day, case studies at Harvard. Just you watch."
Photos: It Takes Money, Honey: An Audience with the Feisty Georgette Mosbacher
Georgette Mosbacher at her home on Fifth Avenue in Manhattan. Photo by Katie Thompson. Produced by Biel Parklee.
Georgette Mosbacher during Madama Butterfly Opening Night Starting the Lincoln Center Metropolitan Opera 2006-2007 Season at Lincoln Center Plaza in New York City, New York, United States. (Photo by James Devaney/WireImage)
Georgette Mosbacher in New York, New York, January 2003. Photo by Sylvain Gaboury/FilmMagic.
Georgette Mosbacher with her husband Robert Mosbacher at the 4th annual Gourmet Gala in New York, New York, November 1991. Photo by Ron Galella, Ltd./WireImage.
Georgette Mosbacher with Tiffany & Co. design director John Loring at the Rita Hayworth Gala in New York, New York, October 1989. Photo by Ron Galella/WireImage.