Twitter Rejoices in Historic Georgia Election Results
Control of the Senate hinges upon Reverend Raphael Warnock and Jon Ossoff's victories.
---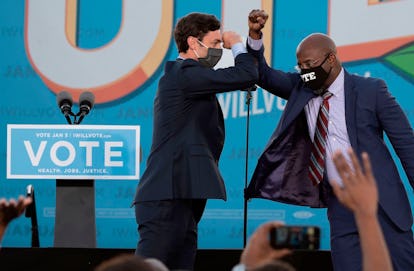 Photo by Jim Watson/AFP via Getty Images
To many who woke up on Wednesday morning—or spent the early hours of it glued to the New York Times's election results needle—the news that Raphael Warnock won Georgia's Senate runoff election seemed too good to be true. His defeat of Republican incumbent Kelly Loeffler marks a turning point for politics in the former Jim Crow South, potentially along with the U.S. Senate. Not only will a state with a deep history of racism and voter suppression soon have its first Black senator; the appallingly low number of Black senators in U.S. history will soon inch up to 11 in the totality of US history.
Celebrations started early, with tweets like Naomi Campbell's "YES LORD!!! THANK YOU GOD!!!" at 2:48 a.m. She, like many others, thanked Stacey Abrams, who's led the state's voter mobilization efforts; Avengers star Mark Ruffalo even (problematically) called her a "real superhero." Of course, these changes didn't happen overnight; there are countless others to thank both in Georgia and the greater South. And at long last, many are finally getting their due on Twitter.
Meanwhile, the race between Democrat Jon Ossoff and Republican David Perdue remains too close to call. In the meantime, plenty are praying for Perdue's defeat (and poking fun at the fact that Ossoff is only 33). Both Perdue and Loeffler sold stocks after receiving a senators-only briefing on the pandemic, only to then downplay it in public. Loeffler then went even further, quietly investing in DuPont, a company that produces personal protective equipment and body bags.
But for many on Twitter, the celebration of Warnock's victory is as much about Loeffler's defeat. The 50-year-old is known for her extreme wealth, and has repeatedly been accused of insider trading, transphobia, and racism. (Instances of the latter have been particularly well documented.)
The races also carried significant national implications, as an Ossoff win would tip control of the Senate back to the Democrats (with Vice President-elect Kamala Harris acting as the deciding vote amidst a 50-50 party split). That result would not only mean Democrats would regain control of the White House, House and Senate after Donald Trump's 2016 victory put them all in Republican hands, but also that Mitch McConnell would be relegated to Minority Leader.
Related: Activist Brittany Packnett Cunningham's Post-Election Road Map