Georgie Greville Lives in the Moment, Not the Selfie
The Milk Makeup co-founder on what to do with those extra free minutes in the morning: yoga or sex or both.
---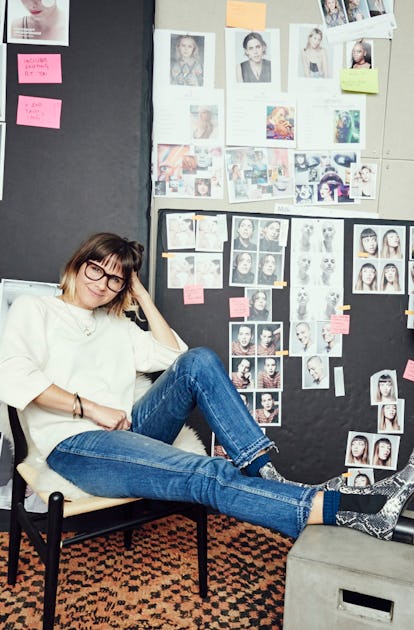 It would make sense that the mantra of Georgie Greville, the co-founder of Milk Makeup, is to focus on the future. After all, her new makeup line offers a plethora of outside-the-box products and an achingly hip image. Here are her offers tips on how to look – and be – forward-thinking.
What's your first beauty memory? Pinching my cheeks to make them flushed in the middle school bathroom during science class.
What was your worst beauty blunder? A really bad skunk dye job in college. I had long straight hair, and the front two inches were peroxide blonde while the rest was my natural mousey brown. I am red-olive skinned, so I ended up looking like a demented version of Malibu Barbie.
What beauty products are currently in your purse? Milk Makeup, RMS Beauty, bitters, Standard Process supplements, Alexis Smart Soul Purpose Flower Remedy.
What's your 5-minute morning beauty routine? Milk Makeup concealer under each eye, which I blend with my middle fingers. Ubame mascara on the inner and outer lashes, then I'll dot the outside lashes out with the top of the wand. I line my top eyelid with the Shadow Liner and smudge it towards the outside of my eye and up. I dab Blush Oil onto each cheek, then smudge it around a couple times to blend. A swipe of highlighter across my cheekbones, then I add lip color in the elevator before I walk in to my first meeting.
If you had an extra 10-15 minutes in your routine, how would you spend it? Yoga or sex, or both.
Which discontinued product or shade do you mourn? I don't really mourn anything as my needs have evolved. There are so many exciting new products that have happily replaced whatever I used before. I love all the natural tech out there that elevate natural ingredients in formulations that really deliver.
What's your beauty peeve? The concept of perfection. I want life to be a little more scrappy and rock 'n roll. Live in the moment, not the selfie.
What are you currently obsessed with? Yoga classes with Elena Brower; the hilarious, genius Comedy Central show Nathan For You; the film Gueros; the art book So Far So Goude, about Jean Paul Goude's amazing work over the past 50 years; Alice Coltrane's sensual, psychedelic album Journey in Satchidananda; Miranda July's novel The First Bad Man; Shanti Shack's vegetarian food in Williamsburg, Brooklyn; and long baths with Pursoma Bath Salts.
Photos: Georgie Greville Lives in the Moment, Not the Selfie