German Model Alisa Ahmann Has Plenty of Advice When It Comes to Indie Beauty Brands
The 22-year-old opens up her medicine cabinet. Take a peek.
---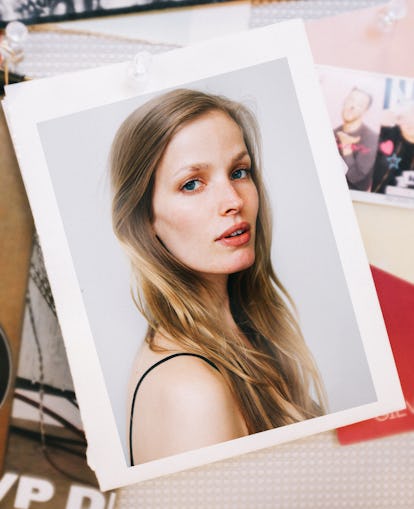 Photo by Biel Parklee. Polaroid Courtesy of the Society Management. Model: Alisa Ahmann at the Society Management.
In W's September issue, German model Alisa Ahmann appears alongside Xiao Wen, Grace Hartzel, Molly Bair, Alice Metza and Karly Loyce in "The Gang's All Here," wearing the best coats of the season. For the photo shoot, the models wore natural makeup and messy hair under knit caps–off duty, but better. When she's actually off duty, Ahmann also prefers a simple, natural beauty look. Here, the rising star shares her favorite German haircare brand, why she keeps her nails bare, and more.
Your look in three words: Simple. Natural. Clean.
Medicine cabinet snapshot: Weleda skin moisturizer, Clinique acne gel (for breakouts), Tata Harper cleanser.
A good hair day starts with: Sante shampoo and a little jojoba oil on my dry ends (I have fine hair and conditioner makes my hair heavy).
Makeup essentials: Vapor foundation in NR.115 , Ecobrow in Marilyn, RMS highlighter and blush.
Nails must be: Nude! I only use nail strengthener, Nailtiques Formula 2, for weak nails.
Sheet mask or mud mask: Tata Harper mask.
Bronze or blush: RMS lip2cheek in Curious.
Beauty from the inside out: Avocado, matcha, berries (blueberries are my favorite).
Exercise obsessions: Barre at 3barre West Village, Yogaworks on Broadway, Aerial Yoga on Bleecker Street and Sacred Sounds Yoga in Greenwich Village.
Drink of choice: Kombucha (love!), almond matcha latte (unsweetened).
A woman should smell like: Calvin Klein Beauty.
Definite doppelgänger: My real life twin, Xenia!
Model Alisa Ahmann's Favorite Beauty Products
From left: Ermanno Scervino coat and boots. Bottega Veneta coat, sweater, pants, scarf, and shoes. Prada coat, bag, and tights; Bottega Veneta shoes. Roberto Cavalli coat; Fleur du Mal bra. Dries Van Noten coat, top, pants, necklace, and shoes; Bally bag. For stores, prices, and more, go to Wmag.com/where-to-buy-september-2016. Hair by Recine for Rodin; makeup by Francelle; manicures by Casey Herman for Dior at the Wall Group. Set design by Andy Harman at Lalaland Artists. Models: Xiao Wen at IMG Models; Grace Hartzel at Next Management; Alisa Ahmann, Molly Bair, and Alice Metza at the Society Management; Karly Loyce at Women Management.From left: Ermanno Scervino coat and boots. Bottega Veneta coat, sweater, pants, scarf, and shoes. Prada coat, bag, and tights; Bottega Veneta shoes. Roberto Cavalli coat; Fleur du Mal bra. Dries Van Noten coat, top, pants, necklace, and shoes; Bally bag.

Hair by Recine for Rodin; makeup by Francelle; manicures by Casey Herman for Dior at the Wall Group. Set design by Andy Harman at Lalaland Artists. Models: Xiao Wen at IMG Models; Grace Hartzel at Next Management; Alisa Ahmann, Molly Bair, and Alice Metza at the Society Management; Karly Loyce at Women Management.

Produced by Hen's Tooth Productions; Digital Technician: Jonathan Nesteruk; Lighting Design: David Diesing; Photography Assistants: Will Englehardt, Kevin Vast; Fashion Assistant: Nicolas Eftaxias; Makeup Assistants: Takahiro Okada, Kuma.

Photographs by Roe Etheridge, Styled by Paul Cavaco
Watch W's most popular videos here: