Getting Dirty: 11 Scents Heavy on the Earth Notes
Yes, dirt is used in a few fragrances for aromas that can take us back to our childhood.
---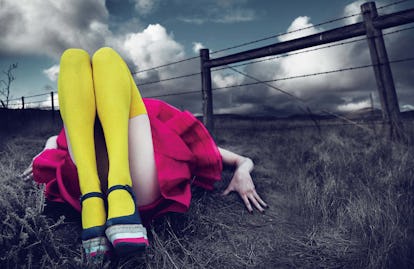 Mert Alas & Marcus Piggott, styled by Alex White; W magazine March 2011.
The other day when I hugged a friend of mine, she exclaimed, "Oh my god, you smell so good! What is it and is it out yet??"
It's Starck Paris Peau d"Ailleurs. And yes, it's out this week, at Bergdorf Goodman and Neiman Marcus.
"You smell like backyard!" my friend continued, inhaling with her eyes closed.
I smell like backyard. Well said. When I inhale Starck's new fragrance (one of three), I am reverted back to the safety of my childhood. Specifically, summers at my grandmother's when days were spent mostly outside. In the yard. We've all heard how childhood memories impact the scents we gravitate toward, which would explain the popularity of vanilla and other cookie-related fragrances. And why not dirt? If someone came out with a fragrance that called Swimming Pool, I'd be all over that one, too.
"Dirt is used in a few fragrances," says David Durga, co-founder of fragrance brand DS & Durga. "It comes from an ingredient called fenchyl alcohol. It lends a realism to earthy notes, for sure."
When I spoke with Starck about this, he seemed pleased that I had chosen not his feminine Peau de Soie or the more masculine Peau de Pierre, the other two that rounded out his new—and first—collection, but this more elusive scent.
"Peau d'Ailleurs is for the next generation, the the future, where there is not a man or a woman that are labeled and put in boxes," he said. "You can't recognize if it's a men's or a women's perfume."
That would explain my utilitarian style of dressing. But back to him.
"I made this perfume without any sexuality, no easy image of sex," he continued. "I told the perfumer that I wanted the smell of emptiness, but there is a rich emptiness in this perfume. It's like when you hear music, it's not so much the music itself that you like, but suddenly, you receive a territory that makes you happy. You think, 'I am home. I am safe.' It's the same with this perfume. Perfume is a mental territory."
Fragrance creator Christopher Brosius must agree with that sentiment. His CB I Hate Perfume have put us in various mental territories for years. He even went so far as to name one of his very first creations Dirt, back in 1996 for his former brand Demeter, which became known for its un-fragrancey fragrances, like Laundry, Snow and Tomato.
"Dirt is still a note I use in a lot of my work," says Brosius. "I've always thought dirt resonates so strongly with everyone because at some point in everyone's childhood everyone has played in the dirt."
Of course, Brosius points out, the dirt you grew up in might be very different from the dirt that I played in, so olfactory recollection varies enormously, which is why CB I Hate Perfumes makes close to half a dozen fragrances with strong dirt notes. "The smell itself is so archetypal," he says. "So it's always recognized and loved."
Now, roll up your sleeves and come play in the dirt with me.
Mert Alas & Marcus Piggott, styled by Alex White; W magazine March 2011.
DS and Durga Hylnds Bitter Rose, Broken Spear $180 dsanddurga.com There is a slight fiery quality to this one, thanks for smelted iron and a note simply called "embers." But fresh notes of nutmeg, clover and wild mountain thyme basically set you in a field on a foggy afternoon.

DS and Durga Hylnds Bitter Rose, Broken Spear $180, dsanddurga.com
Parfums Quartana Wolfsbane $185, six-scents.com The freshest patchouli ever wrapped in cedar, sandalwood and vetiver give this its outdoor earthiness.
Philippe Starck Peau d'Ailleurs $150, neimanmarcus.com Amber, musk and woods are included in the description, but, as mentioned above, all I smell is "backyard."
Imaginary Authors Cape Heartache $95, imaginaryauthors.com Pine resin, Douglas fir, a drop of strawberry and a note called "Mountain Fog" impart that hike-in-the-woods feeling.
Aftelier Cepes and Tuberose $180, aftelier.com Creator Mandy Aftel lyrically describes this mix as being based on the conjugal connection between dirty tuberose and wild foraged mushrooms. Dirty, indeed.
Apoteker Tepe After the Flood $110, apotekertepe.com The notes of soil, water and "the delicate stirrings of undergrowth in Spring" really does capture this blend. But don't wait until next March to try it.
Amouage Bracken $265, amouage.com Nutmeg and clove dominate this "wet earth" scent that's made for men, but it dries down to a spicy topsoil base.
CB I Hate Perfumes On a Clear Day You Can See Forever $190, cbihateperfume.com Fresh blooming flowers hyacinth, narcissus and jonquil are tempered with the wet earthiness of soil that anchors them.
Comme des Garcons BlackPepper $131, Dover Street Market Cedarwood, patchouli and agarwood give this spicy Madagascan pepper scent a wet woodsy element.
Altaia Ombu $210, [beautyhabit.com](beautyhabit.com] This blend of sage, cedarwood and grassy notes makes it the lightest of the bunch, but you can definitely smell the earthy richness at its base.