Getting Lit With Jenny Holzer in Ibiza
The artist is bringing an LED-lit dose of realism to the Spanish party island.
---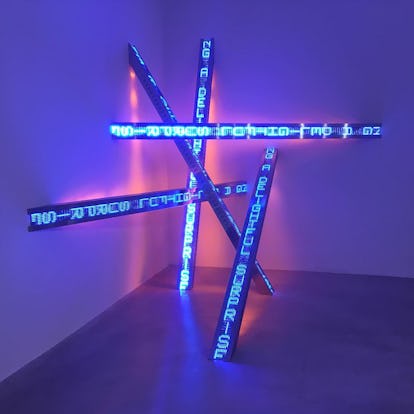 Photo via @artprojectsibiza.
Ibiza might be best known as a hotspot for DJs, actors, and athletes, but thanks in no small part to Canadian billionaire and Cirque du Soleil founder Guy Laliberté, that's all starting to change. Last summer, he enlisted the artist Takashi Murakami to exhibit his 20-foot-tall silvery Buddha statue seaside, attracting a spread of art world figures, collectors, and gallerists, many of them fresh from Art Basel. This year, with the help of Sprüth Magers gallery, Laliberté's back at it again with a seven-month exhibition and site-specific installation by Jenny Holzer. Her urgent-as-ever truisms, rendered stoically in marble, might seem incongruous with island life, but her trademark LED signs fit right in — that is, until you get up close and see they're broadcasting sensitive government documents.
Whether they get the message or not, late-night revelers are free to head to Laliberté's galleries Art Projects Ibiza and Lune Rouge for an arty pre-game — Holzer's show, provocatively titled "ARE YOU ALIVE?" is open nightly until 9 p.m. With September just around the corner, get one last taste of summer with a look inside, courtesy of Instagram, here.
Watch W's most popular videos here: