Getting Ready for Alexander Wang With Aluna Francis of AlunaGeorge
Behind the scenes with the singer before one of the most anticipated shows of New York Fashion Week.
---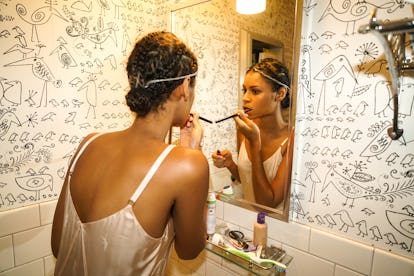 An hour before Alexander Wang's Spring 2017 runway show-slash-food court-slash-party, singer Aluna Francis, one-half of the synth pop duo AlunaGeorge, was still in a hotel room in lower Manhattan, with a phalanx of her styling crew. Frank Ocean's "Self Control" was on the stereo; fireworks, exploding somewhere downtown, were barely visible through the window; and a betta fish swam round and round a container on a table in the corner. ("Does that fish come with the room?" someone asked. "Yeah, Aluna travels with a fish," another joked in response.)
Francis sat on the bed at the center of the room, a makeup artist putting the finishing touches on her mauve eye shadow, with a deep eggplant lip. Next to her, an array of accessories were sprawled across the bed, and over the door of the wardrobe hung a pastel peach slip dress and acid-washed denim jacket. This was to be Francis's look for the night — pieces Wang selected himself from his own Fall 2016 collection for her appearance at his show.
The 29-year-old singer starred in Wang's Spring 2016 campaign, as a founding member of #WangSquad alongside Vic Mensa, Alice Glass, and, of course, perennial Wang favorite Anna Ewers. She first met the designer around four years ago, and Wang was an early supporter of a band that's had its fair share of designer support. Sitting in the hotel room, Francis summed their professional relationship up succinctly: "I like clothes, he likes music."
"I've always thought that if you don't decide what you're wearing and why, you're missing out on an opportunity for creativity and creative expression," she told me later. "Musicians are, I think, very interested in that — how fashion can also tell their story."
With the aid of the stylist Madisen Sowers, Francis is now even delving into design for herself to supplement her tour wardrobe. They produced a hundred sketches — inspired by tracksuits, the image of a boxer stepping into the ring, and gothic romance all at once — that they've since whittled down to prototypes.
She took the pieces for a test drive at Coachella in April, and she will take the ones that make the final cut with her on tour at the end of September, in support of the band's new album I Remember, out this Friday.
Francis and George Reid, the other half of AlunaGeorge, went back into the studio immediately following the release of their debut album Body Music in 2013. Amid her rigorous touring schedule — Reid doesn't tour — they've been writing for I Remember ever since. Three years is quite a hiatus, and sonically, it shows in the evolution between albums. I Remember trades in some of the more pop inclinations of Body Music in favor of a wide-ranging array of influences. There's the dancehall-inflected "I'm in Control," an ode to female sexual empowerment; the sultry, horn and electric guitar-tracked "Not About Love," which wouldn't sound out of place on 90's Top 40 radio; and the shimmery, bass-heavy "In My Head." AlunaGeorge came of age as a band around the same time that Purity Ring and Grimes's distinctive synth pop began penetrating airwaves, and I Remember is an assertive collection that echoes those peers, the sound of a band that spent three years honing their writing and coming to terms with their place in the industry.
Early on, observers didn't quite know what to do with AlunaGeorge, or where to place their sound (which resulted in many bookings on EDM stages). Francis recalled times where she got onstage and felt as though she needed to apologize for being there, because her music couldn't be neatly categorized. Part of her band's evolution over the past three years has been a personal reckoning: "As a female in the industry that's doing something different, as a black female in the industry that is showing my culture and my heritage, in the things I'm saying in my songs — all of that is just enough to warrant me being on stage," she said.
The new album's title, I Remember, is about agency. "Sometimes you just need to be reminded of certain things," Francis said. "It's as powerful to remind a woman that she has control over her own mind and her own needs, as it is to teach somebody to think about what they want in the first place."
Getting Ready For Alexander Wang with Aluna Francis of AlunaGeorge
Suddenly, it was 8 p.m. and time to get moving. In the back of the black SUV that shepherded us to the Alexander Wang show, I asked Francis if she'd always held this curiosity about fashion.
She sighed, recalling an early aspiration to be a designer herself. "I think you kind of know your limitations even when you're at that age," she conceded. "Having done, whatever, a sketchbook full of outfits, I think I can confirm I may not be a candidate for being a fashion designer, but that obviously didn't quell my interest in it."
"I'm a real botch-jobber. I never plan anything," she continued — a quality that may not lend itself to the painstaking detail and calendar of fashion design. Yet early on, Francis decided that she would never wear the same outfit for multiple shows.
"I'm not lots of designers' muse or anything," she added, though designers like Stella McCartney, Vivienne Westwood, and of course Wang have all been supporters. New York Fashion Week coincided with her album release this year, so she's conveniently combined a full schedule of press appearances with shows and a DJ gig at the Baja East afterparty. Thankfully, she's staying with her mother, who has settled in New York teaching yoga, allowing her to snatch a few moments of tranquility before she goes back out on the road again, with a few festival dates ahead and then a full tour in support of Sia starting in October.
And then we had arrived at Wang. It was 10 minutes after 9 p.m.; the show was running late. Francis stepped out of the car and into the flashing lights outside Pier 94. She dissolved into the crowd in front of me and was gone.
See W's most popular videos: