Filmmaker Gia Coppola Branches Out into Design
The director talks about her new California-inspired Everlane collection, summer vacation plans, and more.
---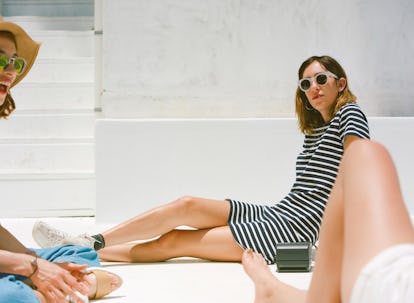 Gia Coppola has directed her fair share of fashion films for brands like Opening Ceremony, Rodarte, and most recently, Gucci. But the filmmaker, known for her breakout movie Palo Alto starring James Franco, had yet to dive into the design side until now. She's teamed up with Everlane on a California-inspired capsule range of striped summer basics, including a cotton romper, classic boatneck shirt, and t-shirts in navy, red, and yellow colorways. The star of the collection, however, is a navy and white, striped mini dress inspired by a dress Coppola owned when she was a kid. It's the kind of dress you want to wear nonstop, all summer long.
"I wanted a collection that would consist of staple pieces that could go with anything in your closet," said Coppola. "I feel stripes are that, but we wanted a fun color pallette that embodied California and summer. I used to wear a lot of Petite Bateau when I was younger."
She also looked to her hip friends, including musician Tracy Antonopoulos and actress Nathalie Love, for design inspiration. "I really value my friends' taste," she said. "So, in anything I do I try to think about it in the context of 'would my friends like it?'"
Though the collection ($30-48) might inspire lazy days spent by the pool, Coppola won't be doing much of that this season. "I'm working most of the summer, so I'm vacationing inside a good book," said the director, who's busy with her newest film project The Secret Life of the Lonely Doll, based on children's book author Dare Wright. "I just finished reading Girls On Fire."
Watch all the episodes of "The Myth of Orpheus and Eurydice," a four-part film series by Gia Coppola, here. Produced for Gucci by W magazine.
Photos: Filmmaker Gia Coppola Branches Out into Design
Gia Coppola. Photo courtesy Everlane.
Gia Coppola. Photo courtesy Everlane.
The Gia tee. Photo courtesy Everlane.
The Gia romper. Photo courtesy Everlane.