Gigi Hadid and Amber Rose Are Playing New Parts
Supermodel Hadid turns designer, actor and activist Rose becomes the new face of Estée Lauder.
---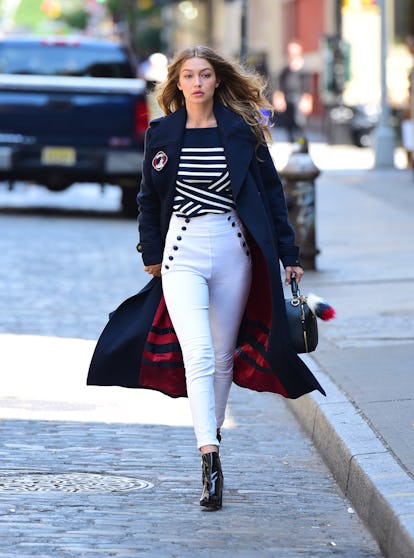 GC Images
Agdal, Nina The supermodel, who also happens to be dating Leonardo DiCaprio, just loves a good track suit. (For travel, at least.)
Drake Plays a starring role in YG's new video for "Why You Always Hatin'," which features some don't-try-this-at-home driving an an infectious hook courtesy of upstart Kamaiyah. In other news, he's also working on a video entitled Please Forgive Me, with music from Views — his own Purpose or Lemonade?
Grindr Friend to the fashion crowd, now making its own ventures into fashion with a full clothing line to raise awareness about and funds to prevent discrimination towards LGBTQ athletes.
Hadid, Gigi She's already a Tommy favorite — she starred in a nautical-themed fragrance campaign over the summer — and now, she's a designer, too: Hadid revealed a preview of her new capsule collection for Tommy Hilfiger, which is slated to hit stores in September.
Heaton, Charlie The 22-year-old Brit actor and star of your new favorite Netflix binge Stranger Things is taking off — with a little help from Winona Ryder.
Merch Well, meta-merch. Ladies and gentlemen, behold, the next wave of the merch trend.
Merch, Political Because no one can get enough, from designers to musicians (to Bieber) to presidential candidates.
Rose, Amber "I'm tatted, bald-headed, I talk about sex like really raunchy — but I'm very sex positive — but I just speak my mind. Are you sure you want me for your brand?" the new face of Estée Lauder recalls asking Donald Robertson, according to WWD. Apparently, he did.
Watch W's most popular videos here: