Gigi Hadid and Tommy Hilfiger's Carnival Is What Millennial Dreams Are Made Of
In lieu of a traditional fashion show, Gigi Hadid's line with Tommy Hilfiger will be presented at an actual carnival during New York Fashion Week.
---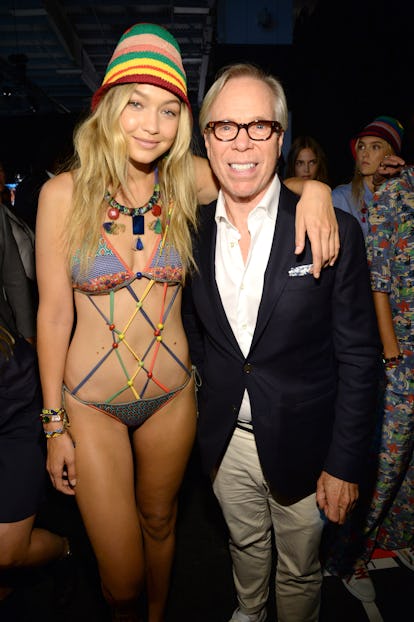 Getty Images for Tommy Hilfiger
A non-comprehensive list of things younger millennials seem to flip over:
Acquiring lived experiences.
Snapchat.
'90s nostalgia, especially for brands popular in the decade.
Instant gratification.
The Tommy Hilfiger brand is capitalizing on all of the above with its New York Fashion Week show this September. Maybe it's not quite fair to call it merely a show when it's will be full-fledged pop-up fair–lets call it a fashion experience.
Hilfiger will be taking over the entirety of Pier 16 in South Street Seaport on Friday, September 7th, to present an actual carnival to show its upcoming collaboration with Gigi Hadid. According to WWD, the spread will include a 40-foot Ferris wheel and other carnival rides, foods like cotton candy and hot dogs, a record store, nail art and temporary tattoo salons, and even a store selling vintage Tommy gear. 2,000 guests will be admitted, but about half will be selected from the general public through various giveaways and partnerships with media outlets.
Worried about not getting in? Don't sweat it. The Tommy x Gigi collection runway will be live-streamed on Tommy.com, and the entire fair will be open to the public the next day from noon to 9 p.m.
Viewers will also be able to get their instant gratification on by buying directly from the collection at two pop-up shops located on the pier. Others will be able to snap up the goods immediately online.
"We were the most viewed show on Snapchat," Hilfiger tells WWD about his presentation last September.
Clearly, the immersive pier experience will offer guests plenty of highly snappable moments.
The Hilfiger isn't new to putting on presentations in eye-popping pop-up locations. The brand's Hilfiger's Fall/Winter 2015 runway show was staged in a recreation of a football arena, a pop-up tennis court in Bryant Park was used to introduce a collaboration with Rafael Nadal last year, and Hilfiger once even built a faux-island in Italy.
But offering up a fairgrounds to the actual public seems to be the brand's most democratic experience yet. Fitting for a collaboration with Gigi Hadid, the brand's global brand ambassador and a social media made supermodel.
Hilfiger seems to be expertly honing in on millennial consumers lately, especially as they show such a zeal for '90s heritage brands. Hilfiger also recently unveiled an Urban Outfitters exclusive Tommy Jeans capsule collection. Meanwhile, the brand's latest Hilfiger Denim campaign features the much-followed model duo of Hailey Baldwin and Lucky Blue Smith.
Watch Gigi Hadid talk about her squad: