Gigi Hadid Debuted Her Baby Bump in Maternity Portraits
The baby the entire fashion community has been waiting for during the entirety of quarantine just made an Instagram debut.
---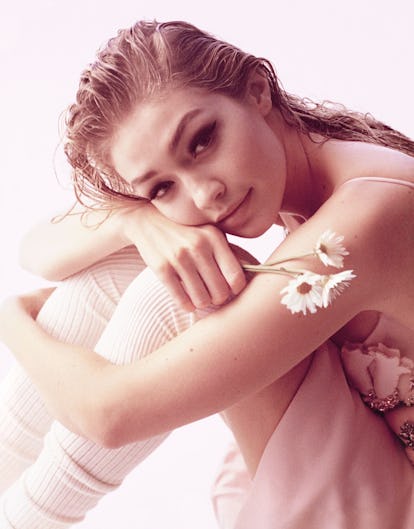 If you thought Gigi Hadid would give the exclusive rights for her official pregnancy photos to a magazine, you would have been wrong. Instead, the supermodel has taken matters into her own hands by using the greatest publicity tool at her disposable: Instagram.
On July 25, to the delight of a few followers and to the chagrin of many haters, Hadid revealed her taste in apartment decor. But the following day she tucked herself away into a studio and worked on creating the image that she would eventually reveal as her baby's first major photo.
A full month after the shoot, Hadid has now released the images shot by Luigi and Iango on Instagram, where she showed off her baby bump and announced she is still "growin an angel" inside.
Since the news broke in April, the model hasn't spoken too publicly about her pregnancy with boyfriend Zayn Malik. Sure, she's commented on it here and there—she confirmed the news during her appearance the quarantine edition of The Tonight Show starring Jimmy Fallon, for example—but these pregnancy photos are probably the most public she's been regarding childbirth.
Of course, Hadid is not the only celebrity to be carrying a child during a pandemic—Ciara just gave birth to her third child this summer and shot an entire music video just two days before, Teyana Taylor's second child appears to be ready to enter the world in just a matter of weeks, and Chrissy Teigen recently revealed she's got another one on the way too. But Hadid's child is the baby the entire fashion community has been waiting to welcome for months now, and if these pregnancy photos coupled with their family's supermodel genetics are any indication, the baby will surely be a natural in front of the camera.