Gigi Hadid's Hairstylist On Those Headline-Grabbing Bangs
Bryce Scarlett explains why he worries about lighting for more than just a selfie.
---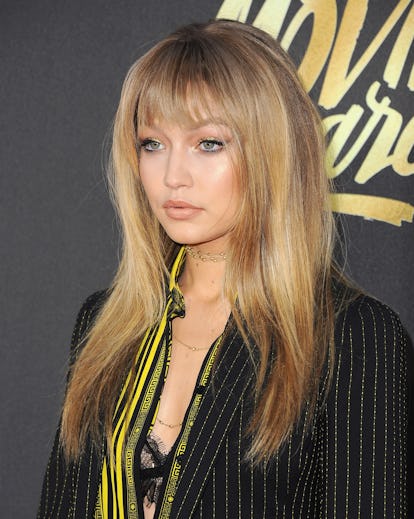 Gigi Hadid sported a major bang moment compliments of hairstylist, Bryce Scarlett, at the 25th annual MTV Movie Awards on Saturday night in Los Angeles. Here, the uber stylist breaks down everything you ever wanted to know about the secret to perfect red carpet hair, and some solid advice should you be considering taking the bang plunge yourself.
You've given Gigi Hadid two faux crops for the red carpet. Where did that idea come from? It's definitely something that I enjoy doing and have had some experience doing, but it honestly came from Gigi – both concepts came from her. She loves to change it up and take risks. It's awesome.
And both looks were wigs, yes? How did you get so comfortable working with them? You duped most of us. I think that wig is a bold statement; it was a faux bang piece. I assisted hairstylist Franco Gobbi for 4 years. He's amazing with wigs, I learned so much from him. I love making drastic changes, but I don't work in a salon with real women on a daily basis where girls come in and say, 'I want to cut bangs, I want to cut a bob.' I obviously love my world, but we don't get to make drastic changes every day because Gigi's a model. She can't go cut her hair on whim and then change it up the next day. They have to have hair to work with. It's my way of making big changes.
The look was inspired by Donatella Versace, yes? Did you have a specific image in mind when creating the fringe look? Gigi had originally come to me and said that I'm wearing Versace and I want to pay homage to Donatella with bangs. I had done faux bangs on Lily Aldridge for an editorial that I had posted on Instagram a few weeks ago that Gigi had liked. I explained that the look was also fake and we could do the same. We wanted to carry that Versace look through with hair and makeup.
Do you have any must-have products or tips for bangs? I used an Uberliss flatiron to style Gigi's, but bangs aren't for everyone. I'm not a believer that it's something that suits every person. If you want, you can buy faux bang pieces and it's a really fun way to try it out to put on in the mirror a couple of times and check it out without committing. If you're looking at fake bang pieces, you don't want anything with too much hair in it. The thick ones are the ones that come across really synthetic – the more natural amount of hair the better.
Where do you source your materials? What are your favorite supply shops? It depends on where you live. In New York and L.A., there's a ton of options. Outside of that, it's a bigger challenge. I always buy natural hair.
How did you get into styling? Do you cut hair as well? I went to school when I was 18. My mom's a hairstylist. I was always around it.
Which products are always in your kit? Is there one product that you can't live without? Oribe Dry Texture Spray, Phyto Volumizer Spray, Wella Velvet Amplify, Uberliss Ilat Iron, Bumble and Bumble Surf Infusion, Ibiza round brushes, YS Park combs, and Carol's Daughter Healthy Hair Butter. I can't live without Oribe's Dry Texture Spray.
What, in your opinion, does not work on the red carpet hair-wise? Why? It depends on the lighting scenario. I think that's the biggest challenge. When someone is going to an event I automatically look up pictures of prior years at that event to see how they light the carpet. Is it a naturally lit carpet? Is it just flashbulbs in a tent? Once I get an idea of what it's going to look like, I can get an idea of what we can pull off because a lot of really beautiful, natural textures that we would do for a photo shoot in the wrong lighting, can look unkept and kind of harsh. That's the first thing that we try and tap into. What kind of lighting scenario are we working with here? So how far can we go? In that conversation, the bangs were scary. As much as they blended well, and I went through every possible precaution to make sure that they match, if you get into the wrong lighting scenario, they could have stood out more than her natural hair. I was praying!
Is there a hair look on women that you love? And one that makes you scratch your head? I love sexy, natural textures. I'm not a big fan of the topknot. I've done one in my day on occasion. Every once in a while they make sense, but I think it's really overdone and I don't love it. Also, braids are very hit and miss. I really get sick of seeing a mature, sophisticated woman with braids. I think it's a very youthful look that makes sense on a young girl sometimes, but you're a chic woman there are a lot of braid scenarios that don't work.
If you could give Gigi a new look IRL, what would you do? A permanent thing? I love Gigi with short hair. I would love to see hair actually take the plunge and do an above the shoulder length one day, and I think that she will someday when she's a little older.
Photos: Gigi Hadid's Hairstylist On Those Headline-Grabbing Bangs
Gigi Hadid at the 2016 MTV Movie Awards. Photo via Getty Images.
In a wig by Scarlett at the 2015 American Music Awards in November, 2015.
Photograph by Steven Meisel. Styled by Edward Enninful.