Bella Hadid Joined Gigi Hadid and Her Daughter on a Chic Stroll Through SoHo
It's our first glimpse at Auntie Bella in action.
---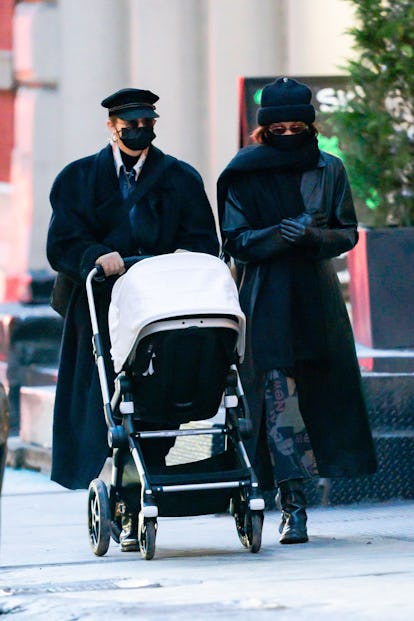 Photo courtesy of Getty Images.
As the world turns and turns, Gigi Hadid continues to reveal the slightest bit of details about the baby that was fashion's most highly anticipated birth of the year. She's given cozy Instagram updates with photos of herself holding her baby as little tufts of hair peak out of a onesie, and revealed that her daughter is indeed the owner of this fall's hottest accessory, a blanket handmade by Taylor Swift. We still don't know the name of her and Zayn Malik's daughter, but forget the unnamed baby for a second—we just got our first official glimpse at Auntie Bella in action.
Everyone knows that Bella Hadid has been out and about in New York as of late, whether that involves posing next to her own Calvin Klein advertisement inside of a midtown Macy's or cementing her status as a plant mom by shopping for greenery (with which to presumably decorate her home) in Chinatown. But in this most recent paparazzi photo set, the supermodel can be seen bundled up in all black head to toe, with a black face mask, beanie, leather trench coat, boots, and scarf, as she assists her sister push the stroller down the SoHo streets.
Gigi, of course, was bundled up too, as they pushed the baby downtown in what appears to be her first photographed big outing since she gave birth. Perhaps they were taking her on a holiday shopping spree, or just getting in some fresh air during these Covid times. One can only hope that Auntie Bella was just whispering down into the stroller, teaching her niece everything she needs to know about growing up in a family of supermodels.
Related: Gigi Hadid Made a Digital Holiday Card for Inez & Vinoodh While Pregnant