Gigi Hadid Wishes Bella Hadid Happy Birthday With Throwback Picture
The model turns 21-years-old today.
---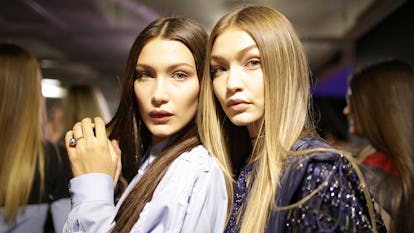 Victor Virgile/Gamma-Rapho/Getty Images
When you're Gigi Hadid, how else would you wish your sister Bella a happy birthday than on Instagram? The 23-year-old model welcomed her sister into her 21st year of life with an adorable throwback photo from the day Bella was born. A blonde Gigi—with bangs and two high pigtails—holds a newborn Bella as mom Yolanda Hadid helps out. Gigi captioned the picture, "TOMORROW WILL BE 21 YEARS SINCE I MET MY FOREVER BESTIE @bellahadid (me wearing all red on your actual day of birth is MAJOR and possibly the reason it's your favorite color ?)." And yes, Bella can confirm that red is her shade of choice (but she has yet to comment if Gigi was her acutal inspiration).
Gigi didn't stop the birthday love with just the one pic. She also took to her Instagram Stories to post a drawing she created for Bella back in 2001—proving that the two Hadids have always been the best of friends. Complete with lots of spelling mistakes from the then elementary schooler, the drawing, featuring a blonde Bella with a party hat, birthday cake, and balloons, read, "Tomorrow is my sister's birthday. She is turning 5." Gigi used the app to draw a martini glass over the cake to update the more than 10-year-old drawing. Bella then reposted it with multiple heart and twin emojis, writing, "BEST FRIENDS FOREVER. MADE ME CRY. LOVE YOU @gigihadid."
Yolanda also had a special Instagram birthday message for her middle child. She posted a picture of her holding a half-naked Bella in the air with the caption, "Happy birthday my sweet angel….. You are my everything! Born with so much wisdom and a heart full of compassion like no one I've ever met before." With Spice Girls–esque pigtails and pants-less outfits, it seems the Hadids were always ahead of their time in the fashion department.
Related: Gigi Hadid Liked Her Sister Bella's Brandon Maxwell Look So Much, She Brought It to Paris with Her