Gigi Hadid Finally Confirms She Will Walk in the 2017 Victoria's Secret Fashion Show
Both sisters will be on the runway.
---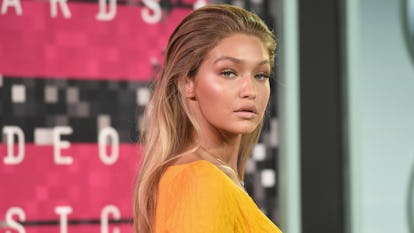 Jason Merritt/Getty Images
For the past week, while models like Alanna Arrington, Martha Hunt, and Devon Windsor were celebrating being cast in this year's Victoria's Secret fashion show, Bella Hadid, Gigi Hadid and Kendall Jenner, who all walked last year, were radio silent. But, on Saturday night, Bella posted on Instagram that she will be walking in the fashion show, and on Monday, Gigi revealed that she will, as well.
Of course, the elder Hadid sister took to Instagram to make her announcement, saying, "Forever and ever and ever a dream come true to be asked back to the VS Show !!! ?? Thank you my friends @ed_razek @10magazine @johndavidpfeiffer @monica.mitro for another unforgettable opportunity; every aspect makes me feel like a dreaming kid again ??? (as shown here at last year's fitting, by @jeromeduran)! ☁️ @victoriassecret #VSFS2017." This will be Hadid's third year on the coveted catwalk. The November show is rumored to be in Shanghai this year following last year's Paris runway.
The official Victoria's Secret Angels, including Adriana Lima, Alessandra Ambrosio, Candice Swanepoel, Sara Sampaio, and Josephine Skriver have been doing lots of press for the show already, and others like Gizele Oliveira, Bruna Lírio, and Maria Borges all posted jubilant announcements thanking their teams (including, of course, their personal trainers).
Kendall, it's your move now.
Related: How Victoria's Secret Models New and Old Are Celebrating the Show's Casting Announcements on Instagram
What Hailey Baldwin, Mackinley Hill, and More Aspiring Angels Wore to the Victoria's Secret Fashion Show Casting
Model Hailey Baldwin attends call backs for the 2017 Victoria's Secret Fashion Show in Midtown on August 21, 2017 in New York City. Photo by Gotham/GC Images.

Gotham
Model Cindy Bruna attends fittings for the 2017 Victoria's Secret Fashion Show on August 21, 2017 in New York City. Photo by Timur Emek/GC Images.

Timur Emek
Model Amilna Estevao attends call backs for the 2017 Victoria's Secret Fashion Show in Midtown on August 21, 2017 in New York City. Photo by Gotham/GC Images.

Gotham
Model Hailey Clauson attends castings for the 2017 Victoria's Secret Fashion Show on August 21, 2017 in New York City. Photo by Timur Emek/GC Images.

Timur Emek
Model Grace Mahary attends call backs for the 2017 Victoria's Secret Fashion Show in Midtown on August 21, 2017 in New York City. Photo by Gotham/GC Images.

Gotham
Model Flavia Lucini attends call backs for the 2017 Victoria's Secret Fashion Show in Midtown on August 21, 2017 in New York City. Photo by Gotham/GC Images.

Gotham
Model Jasmine Tookes attends call backs for the 2017 Victoria's Secret Fashion Show in Midtown on August 21, 2017 in New York City. Photo by Gotham/GC Images.

Gotham
Model Ming Xi attends call backs for the 2017 Victoria's Secret Fashion Show in Midtown on August 21, 2017 in New York City. Photo by Gotham/GC Images.

Gotham
Model Lameka Fox attends call backs for the 2017 Victoria's Secret Fashion Show in Midtown on August 21, 2017 in New York City. Photo by Gotham/GC Images.

Gotham
Model Leomie Anderson attends call backs for the 2017 Victoria's Secret Fashion Show in Midtown on August 21, 2017 in New York City. Photo by Gotham/GC Images.

Gotham
Model Bruna Lirio attends call backs for the 2017 Victoria's Secret Fashion Show in Midtown on August 21, 2017 in New York City. Photo by Gotham/GC Images.

Gotham
Models Julia van Os, Daphne Groeneveld and Sanne Vloet attend call backs for the 2017 Victoria's Secret Fashion Show in Midtown on August 21, 2017 in New York City. Photo by Gotham/GC Images.

Gotham
Model Martha Hunt attends call backs for the 2017 Victoria's Secret Fashion Show in Midtown on August 21, 2017 in New York City. Photo by Gotham/GC Images.

Gotham
Model Melie Tiacoh attends call backs for the 2017 Victoria's Secret Fashion Show in Midtown on August 21, 2017 in New York City. Photo by Gotham/GC Images.

Gotham
Model Riley Montana attends call backs for the 2017 Victoria's Secret Fashion Show in Midtown on August 21, 2017 in New York City. Photo by Gotham/GC Images.

Gotham
Model Gizele Oliveira attends call backs for the 2017 Victoria's Secret Fashion Show in Midtown on August 22, 2017 in New York City. Photo by Gotham/GC Images.

Gotham
Model Dilone attends call backs for the 2017 Victoria's Secret Fashion Show in Midtown on August 22, 2017 in New York City. Photo by Gotham/GC Images.

Gotham
Models Taylor Hill and Mackinley Hill attend call backs for the 2017 Victoria's Secret Fashion Show in Midtown on August 22, 2017 in New York City. Photo by Gotham/GC Images.

Gotham
Model Jacquelyn Jablonski attends call backs for the 2017 Victoria's Secret Fashion Show in Midtown on August 22, 2017 in New York City. Photo by Gotham/GC Images.

Gotham
Model Charlee Fraser attends call backs for the 2017 Victoria's Secret Fashion Show in Midtown on August 22, 2017 in New York City. Photo by Gotham/GC Images.

Gotham
Model Maartje Verhoef attends call backs for the 2017 Victoria's Secret Fashion Show in Midtown on August 22, 2017 in New York City. Photo by Gotham/GC Images.

Gotham
Gigi Hadid Dramatically Reads "Popular"