Gigi Hadid Made a Digital Holiday Card for Inez & Vinoodh While Pregnant
Get a sneak peek at the supermodel's contribution to Double Dutch, plus more from Marilyn Minter, Cindy Sherman, and Maurizio Cattelan and Pierpaolo Ferrari.
---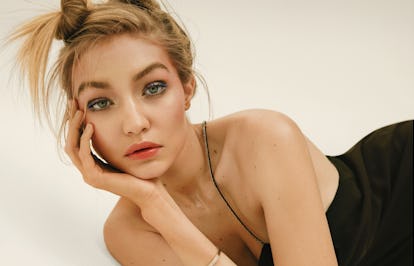 Inez and Vinoodh
Dutch photographic duo Inez Van Lamsweerde and Vinoodh Matadin are widely known for their iconic fashion photos—from Naomi Campbell to Kate Moss—that is, when they're not directing music videos for Lady Gaga and Rihanna.
Now, Inez & Vinoodh have focused their energies on using their expansive artistic knowledge—and contact lists—to launch an online fundraising platform called Double Dutch, which debuts today.
Working with the curator Francesco Bonami, the duo invited over 40 artists to participate in the campaign, each designing their own giftable digital cards. Gigi Hadid, Marilyn Minter, Cindy Sherman, and more have created pieces to benefit a select number of charities, including Knot on my Planet, Every Mother Counts, Parley for the Oceans, and the COVID-19 Solidarity Response Fund.
It's a way to save on waste. Rather than giving Christmas gifts this year, why not donate to charity on behalf of a loved one? "How many scented candles can you have?" Van Lamsweerde said. "The money would be better spent going to a charity. We don't need more plastic, boxes, wrapping paper, packaging, and planes flying in the product."
Speaking from their home in New York, Inez & Vinoodh detail the stories behind five cards from the collection—including one by Gigi Hadid, which is exclusively shared with W—and their meaning in the social distancing holiday era.
Gigi Hadid
"This is a handpainted piece, and Gigi was pregnant when she created it," said Van Lamsweerde. "She painted this phrase in a curvaceous way, which is very inspired by 1970s posters. When Gigi heard about Double Dutch, she told us: 'Let me contribute.' She asked us what the purpose would be, 'How would it be used?' We said: 'What would you say to a friend or family member at this moment?' And Gigi said: 'Wish I was there,' and that's where it all came from. Another one of her digital cards says: 'Miss you more.' It's all about the emotional connection you have to the person you're sending it to."
Marilyn Minter
"Marilyn is a good friend of ours," said Matadin. "We have known her for years. What's so brilliant about her art is that she is a rebel. She is someone who was overlooked as a younger artist—it wasn't until later in her life that she became really sought-after. Her attitude is brilliant, which is: 'I do what I do, I've been doing this for years, this is my work.' It's emblematic of her work. As for this piece here, there is an emotional side to her artwork, which says: 'I can't reach you, but I want to.' There's a barrier, It speaks to wanting to be with loved ones, but you just can't."
Cindy Sherman
"This artwork is from 2017," said Van Lamsweerde. "Cindy Sherman chose the pieces she wanted to contribute for the project. As photographers ourselves, and having followed her career and seen her work in Amsterdam when we grew up, then getting to know her as a friend and photographing her, we thought: 'She has to be a part of this.' This piece is absolutely alluring. The beauty of Cindy's work is how she uses herself as her model, so she can be as cruel or as flattering or extreme as she wants to be. It's all her. We're fascinated by her work. It's a comment on selfie culture and Instagram. She takes Facetuning to such crazy extremes."
Tyler Gordon
"This young San Francisco artist's portrait of Kamala Harris is incredibly timely," said Van Lamsweerde. "For this project, we made a list of all the artists that we're obsessed with. Then, we looked on Instagram and found Tyler Gordon that way. It's so hard to break into the art world; social media allows a way for people to break through. Talent has no age, no gender, no race. It's exciting to judge people solely on their work. Everyone is speaking through their art, Tyler included. We're not approaching these digital cards like they're a Hallmark greeting card. For us, the art on the card is the star."
Maurizio Cattelan and Pierpaolo Ferrari
"This image of a wet cat was originally on the cover of The New York Times Magazine, and the moment we saw it, we thought: 'This is so typical of their work,'" said Van Lamsweerde. "But also, once we started looking for art for Double Dutch, they were the first people we asked. We said to each other: 'We need that cat.'"
"I think it's important in this time to bring in something really positive," adds Matadin. "We have to stay positive and hopeful for the future, for ourselves and our kids. Double Dutch is a good way to go with that."
Related: Introducing The 2020 Friends & Family Holiday Gift Guides